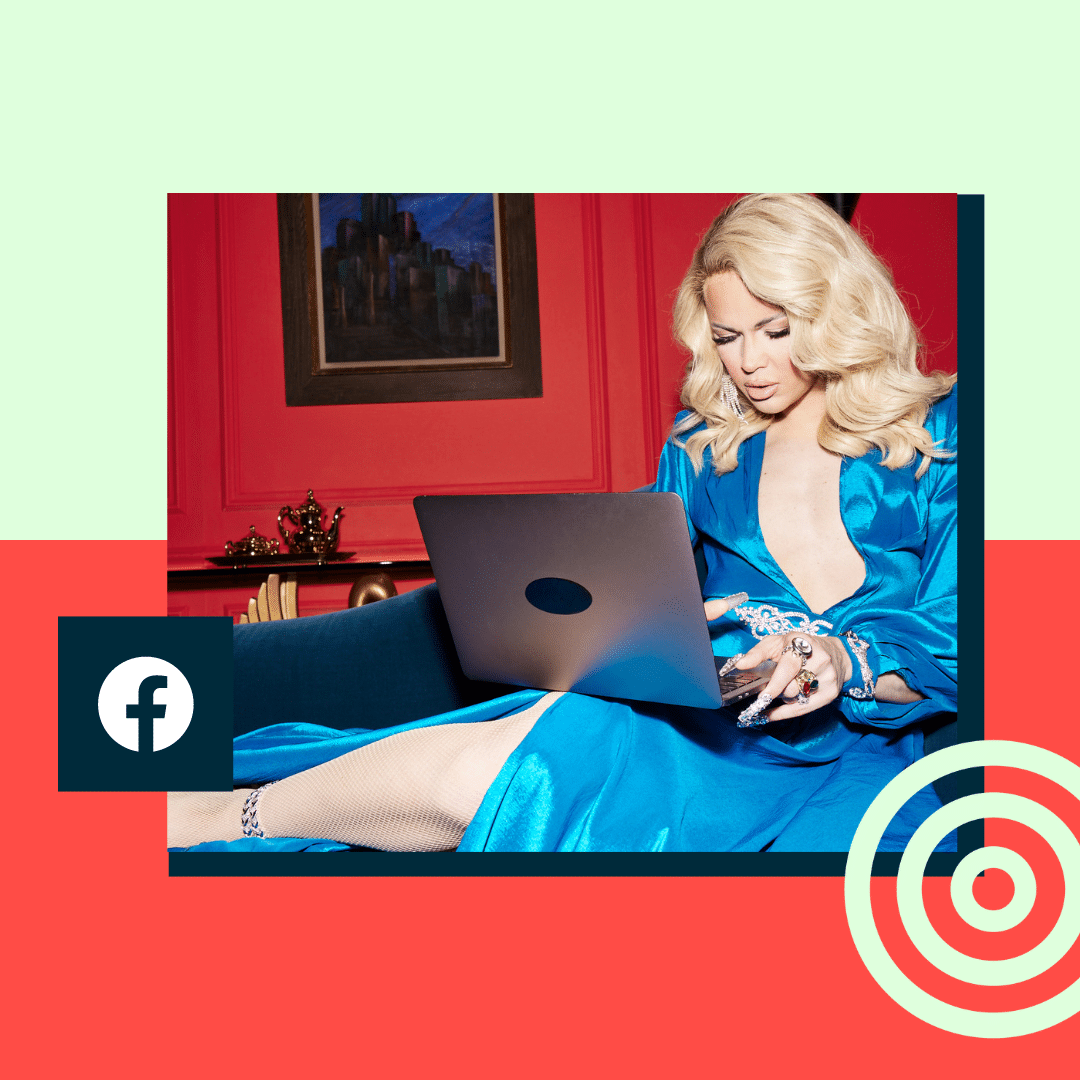 Facebook analytics are like a magic truth serum: an instant shortcut to insight on the world's most popular social media platform.
Even while some things about Facebook remain a mystery — for instance, why does your seventh-grade boyfriend leave a 'Happy Arbor Day' message on your wall every year? — social media managers all over the world can count on the soothing clarity of Facebook analytics.
Numbers don't lie, after all. Your Facebook metrics reveal fascinating facts about your audience's preferences and behaviors. By analyzing data about your content performance, you're getting valuable quantitative feedback to help build a winning Facebook marketing strategy.
The only trick to making the most of your Facebook analytics is finding a tool to help you track performance and identify patterns. Luckily, if you're looking for insights into, well, insights, you've come to the right place.
Read on for a breakdown of the best Facebook analytics tools available in 2023.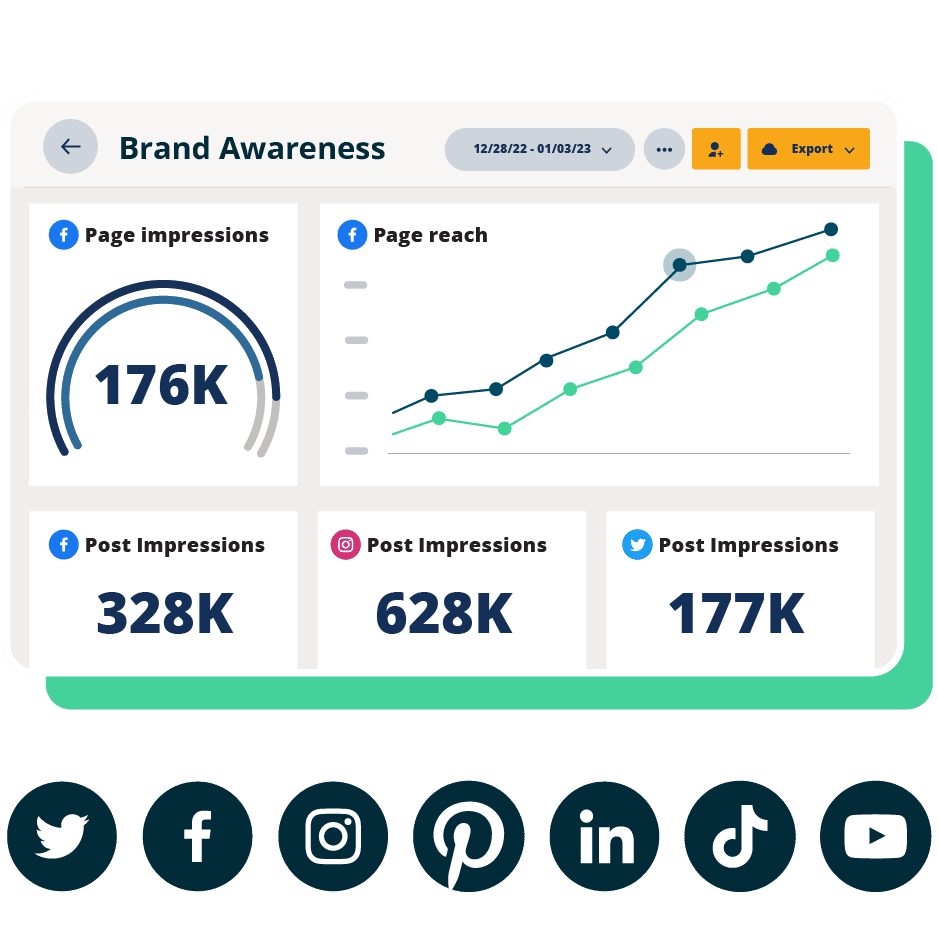 #1 Analytics Tool for Growth
Beautiful reports. Clear data. Actionable insights to help you grow faster.
What are Facebook analytics tools?
Facebook analytics tools are programs that collect and report performance metrics from your Facebook account.
Those metrics can include things like views, likes, engagement, click-throughs, and comments. Basically, even if you're spending all your Facebook time on creative projects (e.g. commenting on Minions memes), Facebook analytics tools will be hard at work in the background keeping track of all the cold, hard numbers for you.
Facebook analytics will also reveal information about who is seeing your posts or following your account, with data on audience demographics. What time are your fans most active? Are they teenagers from Latvia or middle-American dads? Facebook analytics is on a constant reconnaissance mission to gather all this important intel.
Reviewing and analyzing your Facebook performance can help you understand what's working well and what needs improvement. After all, what can't be measured, can't be managed.
You might use Facebook analytic tools to analyze the performance of an individual post, or take a macro-view of the general activity on your Page. All this info allows us to spot trends and patterns that can be super helpful for building an informed social media strategy.
While Facebook itself doesn't have a native analytics tool anymore (Facebook Analytics was discontinued in 2021), there is no shortage of alternative analytics tools for Facebook out there to choose from. Some cost a flat rate or monthly subscription; others are free Facebook analytics tools.
Of course, we're a little biased towards Hootsuite's Analytics tool, but they've all got their own special charms.
So what's the best Facebook analytics tool for you? Let's break it down to find out.
Bonus: Get a free social media report template to easily and effectively present your social media performance to key stakeholders.
10 Facebook analytics tools for 2023
We get it: there are so many Facebook analytics tools available it can feel a little overwhelming. Here's a quick low-down of what you can find, starting with our personal fave, of course.
Okay, okay, we know it's a little cliche to recommend our very own analytics tool, but with so many super helpful features, it's kind of impossible not to include it here.
Between the customizable reports (yep, you can automate 'em!), benchmark tools, and robust audience analysis features, we gotta say: it's pretty next level. Share insights with your team and impress your boss with friendly, clear report docs.
And because the Hootsuite dashboard is connected to all of your social accounts — Instagram, LinkedIn, Youtube, the whole gang — you can actually see all of your social analytics together in one place to catch overarching social trends impacting your brand and accounts. Not too shabby, right?
Key features:
General analytics: Track Facebook metrics like reach, engagement rate, impressions, likes, shares, plays, clicks, saves, comments, video views, new followers, total followers, profile visits, reactions, negative feedback rate, website clicks, average time watched, number of messages, daily engaged users and more.
Reporting: Set up custom boards that give you an overview of your most important metrics at a glance over a select period of time: and look up much more granular information, down to the performance of every individual post you published. Report templates are a quick way to get started.
Recommendations: Get personalized recommendations for your best times to post for each of your accounts based on goals like engagement, brand awareness, and more.
Review industry benchmarks: Easily view industry benchmarks and see how you compare to competitors.
Fan heatmap: This unique visualization tool allows you to see at a glance when your Facebook fans were online during a selected date range. Add the Fans online metric to a report to view just how many fans or followers were online by day of the week and time of day.
Price: Try it for free for 30 days. Pricing starts at $99 per month.
They say you shouldn't compare yourself to others, but what if you ignored that advice? As you could probably guess from the name, Rival IQ is heavily focused on seeing just what your competition is up to. Along with reporting on the usual Facebook analytics metrics (engagement, demographics), you can use the Rival IQ dashboard to analyze how your nemesis brands are doing, too.
Key features:
At-a-glance performance: Likes, comments, posts, reactions and demographic information in one place
Competitive benchmarking: Comprehensive reporting on rival accounts so you can see how you stack up
Facebook ad analytics tool: Track your campaigns and placement, and view demographic information
Head-to-Head reports: Compare your page to your competitors to see performance patterns and key trends
Price: You can try it free for 14 days, but then plans start from $239 per month.
Facebook shut down its in-platform Facebook Analytics tool in 2021, replacing it with the Meta Business Suite. The Business Suite is a tool for managing ads, commerce and content publishing for both Facebook and Instagram. It also features a basic analytics tool for reviewing insights about your posts and Page.
Key features:
Insights: Review your post performances
Trends: Track key trends to see patterns for success
Audience information: Check out demographics for your target audience
Price: Free
Keyhole is an analytics tool that also can be used for social listening. Track the performance of your Facebook page, as well as competitors', and use Keyhole's recommendations to optimize engagement. Hashtag tracking and keyword tracking allows users to keep up with all the hot goss and leverage trends.
Key features:
Sentiment analysis: See who's talking about your brand, and more importantly, how the feel about it
Recommendations: Whether you're looking for more followers, engagement or conversion, Keyhole provides data-backed recommendations for things like time to post and how many words to use.
Competitor analysis: How do you stack up against your rivals? Keyhole's competitor analysis feature lets you see your performances side by side.
Price: 14-day free trial. A basic profile analytics account starts from $39 a month, while social listening account starts from $79 a month.
The social media analytics tool has a colorful and robust Facebook feature, tracking everything from post impressions to engagement to growth and link clicks. There's also the option to analyze ads, competitors and influencer campaigns.
Key features:
Multi-channel reports: Compare your Facebook performance to your other accounts
Paid and organic breakdowns: Analytics for both your ads and content
Competitor benchmarking: Review how your performance is compared to your competitors
Price: A limited free plan is available with no reporting tools; the Starter plan starts at $29 a month.
Quintly's advanced social media analytics (choose from more than 500 metrics!) dig in deeper than Meta and offer some serious customization and flexibility. Choose between layered insights or extensive ones, and analyze your performance against competitors and brands that inspire you.
Key features:
Custom reports: Build and automate reports that deliver the data you care about most.
Custom dashboards: Choose from 500+ metrics to show your key data points at-a-glance.
API integration: Get full data flexibility with Quintly's API integration.
Pricing: From $410 a month
Vaizle takes social media data from Facebook and all your other key platforms and interprets the results into actionable daily tips. Get your insights delivered in easy-to-digest visual formats like graphs and charts.
Key features:
Competitive analysis: See what hashtags and post-types are working best for your mortal enemies
Custom reports: See a live preview of your report as you create a custom one in a few clicks; add notes and comments to give your team context
Recommendations: Vaizle calls itself your "personal social media analyst," providing not just data but suggestions for action.
Price: Free 14-day trial; full plan from $29 per month
Key features:
Metric monitoring: Monitor your campaign results and track your social KPIs
Strategic insights: Content ideas and trends, customized to you and your industry
Competitive analysis: See how your competitors' social content is performing and how you stack up against industry standards
Price: Free 14-day trial; plans start from $83 monthly
Sotrender's social media analytics reporting aims to provide users with both performance stats and actionable insights. Professional reports come together in a snap, and it's easy to monitor competitors' organic and paid posts.
Key features:
Automated reporting: AI-enhanced reports offer unique insights
Comparison reports: See your competitors' results side-by-side with your own.
Brand equity: Sotrender's proprietary "industry indexes and scores" help measure brand equity and performance
Price: Free 14-day trial; accounts start from $69 per month
FAQs about Facebook analytics tools
How do I get Facebook analytics?
To collect and review your Facebook analytics, you'll need to use a third-party Facebook analytics tool like Hootsuite, or Meta Business Suite. Third-party products keep track of all of your Facebook metrics: your views, likes, engagement rate, shares, audience demographics, Facebook ad performance and so on.
Are there tools to analyze Facebook pages?
Yes, there are lots of different Facebook analytics tools available for analyzing the performance of your Facebook Page, such as Hootsuite Analytics.
Connect any of them to your Facebook account, and these social media analytics tools will start collecting data about your post performance and audience behavior, so you can identify patterns for Facebook success. Scroll up for a breakdown of some of the best Facebook analytics tools available in 2023.
What replaced Facebook Analytics?
Meta Business Suite is the tool that replaced Facebook Analytics, but there are so many other great third-party programs out there that can give you insight into your Facebook performance.
In other words, if you're looking for alternatives to Facebook Analytics, Meta Business Suite isn't your only option. Hootsuite Analytics, for instance, tracks your Facebook data in detail alongside your results from other social accounts. This simplifies your social media analytics work. It saves time and makes it easy to compare aggregate results across networks or against your industry average.
Manage your Facebook presence alongside your other social media channels using Hootsuite. From a single dashboard, you can schedule posts, share video, engage your audience, and measure the impact of your efforts. Try it free today.
All your social media analytics in one place. Use Hootsuite to see what's working and where to improve performance.