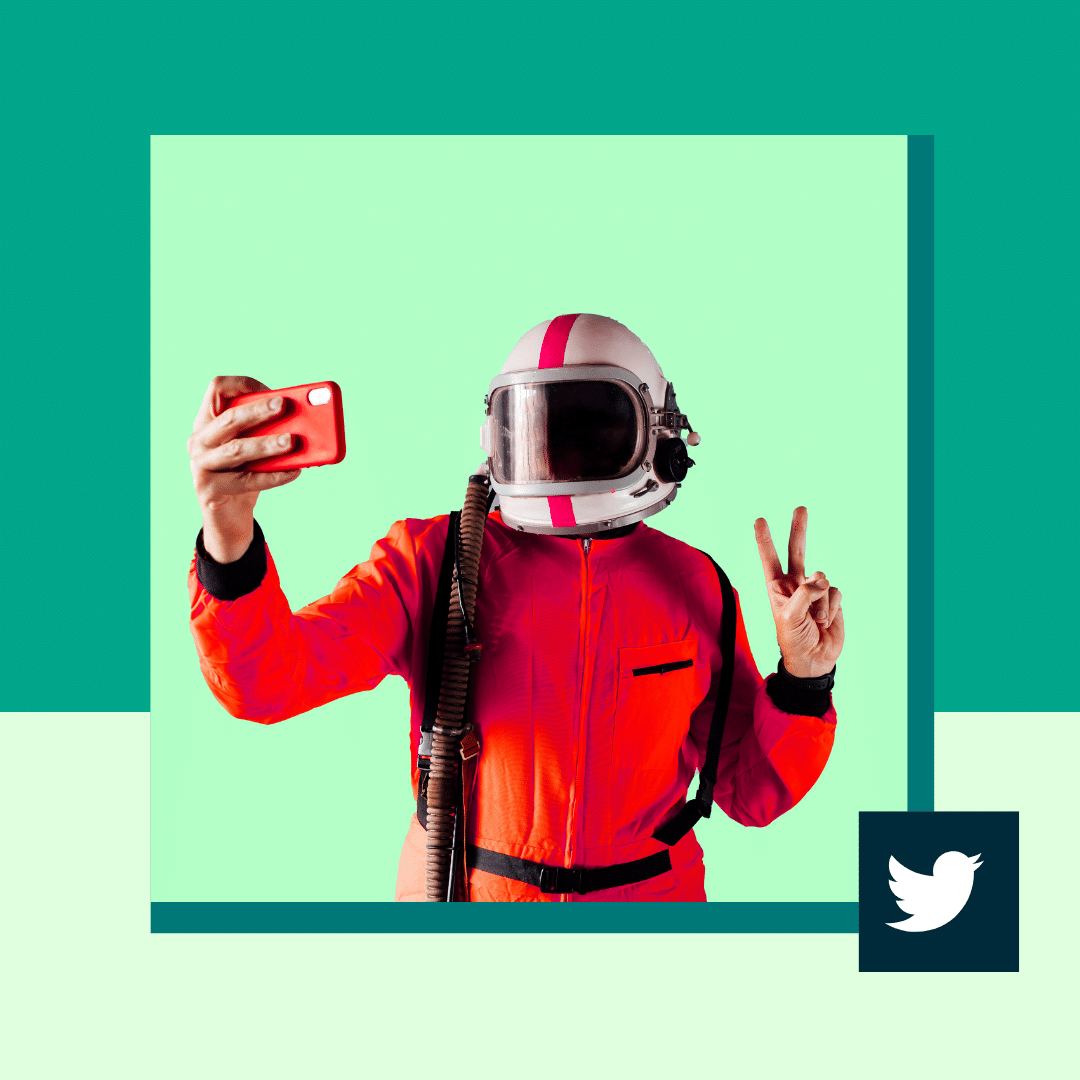 In writing this introduction, roughly 40 different Blue-related jokes ran through the writer's mind. Overwhelmed by choice, she decided to spare her audience (that's you) from her subpar dad humor and simply introduce the piece on Twitter Blue.
Hello, fellow tweeters, creators, and marketers! It pleases me to introduce a guide to Twitter Blue. We'll cover the features and benefits of a Twitter Blue subscription, how it works, and how much it costs.
If you've always wondered how Twitter Blue can help you enhance your Twitter experience and stand out from the crowd, you're in the right place.
Bonus: Download the free 30-day plan to grow your Twitter following fast, a daily workbook that will help you establish a Twitter marketing routine and track your growth, so you can show your boss real results after one month.
What is Twitter Blue?
Twitter Blue is Twitter's paid subscription service. The platform describes it as a "premium service with additional features designed to improve user experience and elevate quality conversations on the platform."
Twitter has stated that Twitter Blue is part of a broader push "to reduce fake, untrustworthy accounts, and promote a higher quality Twitter where people can join and engage safely on our platform."
Twitter Blue offers avid tweeters a bunch of new features that allow you to expand your reach, see fewer ads, and customize your experience on the platform. (More on those upgrades later.)
How much does Twitter Blue cost?
Twitter Blue has two different costs depending on where you sign up to use it.
If you purchase Twitter Blue in your web browser, it costs $8/month for a monthly plan or $7/month for the annual plan.
But, if you sign up through the iOS or Android app, Twitter Blue will cost you $ $11/month. This difference in price compensates for the tax charged by Apple or Google when you use the iOS or Android app.
we're baaaack! Twitter Blue is now available for $8/month on web or $11/month on iOS – we've made some upgrades and improvements 🧵 pic.twitter.com/uRMuwCSElb

— Twitter Blue (@TwitterBlue) December 12, 2022
These prices are in US dollars, but Twitter's got a full pricing breakdown by country on their website.
And remember, Twitter Blue is an optional upgrade. Regular Twitter accounts are still free of charge!
What's included in a Twitter Blue subscription?
Twitter Blue offers its subscribers access to some pretty cool features to customize their Twitter experience.
Perhaps most excitingly, a Twitter Blue subscription allows you to obtain one of those tasty, tasty Twitter verification badges. That's right — Twitter Blue subscribers just have to meet the platform's eligibility criteria and they'll be rewarded with a shiny blue checkmark on their profile.
But that's not all, folks.
Twitter Blue's current features also include:
Edit Tweet
You can finally edit tweets! With the edit-tweet feature, you have a 30-minute window to make changes to your published Tweets. This feature only works with original Tweets and quote Tweets.
Bookmark Folders:
With this feature, you can bookmark tweets and sort them into folders for easy access.
For @TwitterBlue subscribers, when you save a new Bookmark, you can still save directly to a folder by holding down the new flag icon. Long press from the Tweet details to access Bookmark folders or individual Tweets after saving a new Bookmark.

— Twitter Support (@TwitterSupport) January 20, 2023
Your Bookmark Folders are totally private, so there's no need to curate these to look cool. Save that how-to breakdance in your living room tweet for later!
Or, for all you content creators, you can keep a collection of inspirational tweets or your competition's top-performing tweets to analyze later.
Custom app icons
You can customize your mobile Twitter App icon with several color options.
Text formatting
Twitter Blue subscribers can bold and italicize text in their tweets. Fancy!
NFT Profile Pictures
You can display the NFTs you own in a hex-shaped profile picture on your Twitter account. This requires a temporary connection to your crypto wallet.
Themes
You can choose from a few colorful app themes to customize your mobile Twitter experience. This is a great way for Twitter marketers to stand out from the crowd when sharing screenshots on their blog or website.
Custom navigation
Customize your navigation bar for easy access to the content you want to see. Select 2-6 items to pin to your bottom navigation bar.
Spaces Tab
The new Spaces Tab is still in beta and only available to a select few people globally, but if it's a success, it could roll out to all Twitter Blue users. It gives you easy access to audio content, so you can find podcasts, themed audio stations, recorded Spaces, and Live Spaces.
Top Articles
In Top Articles, you'll be able to find the most-shared articles in your network. It's a great tab for content creators and brands to find trending content.
Reader
The Reader feature promises to "turn long threads into a more beautiful reading experience." Basically, it displays threads in an easy-to-digest format.
Undo Tweet
Undo Tweet is your opportunity to rethink whatever you just went to publish. It allows you to retract a Tweet after you send it, but before anyone on Twitter can see it. You can use it to preview texts, and it can be super useful in the heat of the moment for those Twitter warriors among us.
Prioritized rankings in conversations
This feature gives your replies priority on Tweets that you interact with. Climb to the top of that conversation!
Longer video upload
Longer video uploads allow you to upload videos up to ~60 minutes long and up to 2GB file size (1080p). For vloggers and video content creators, this is a true gift. You're no longer limited in your creations!
Half ads
According to the platform, Twitter Blue subscribers should see roughly 50% fewer ads than non-subscribers in the For You and Following timelines.
Longer Tweets
This one is for you Chatty Kathy's and Twitter monologue-rs out there. You can now Tweet up to 10,000 characters. Whew!
These long tweets are awesome for content creators out there who like to post how-to guides or create long-form written content. It's even possible that long-form tweets can help you with your Twitter SEO (but we'll have to dig deeper on that).
SMS two-factor authentication (TFA)
Twitter Blue gives you the option of setting up a TFA for an added layer of protection. For those with huge followings or those who regularly monetize their accounts, this can be a much-needed protection upgrade.
New Twitter Blue features are still rolling out, so keep your peepers peeled for drops!
Benefits of using Twitter Blue
Some people may be wondering, "What is the point of Twitter Blue? Can't I just use my free version of Twitter?"
And the answer is, of course, you can. But you'll be missing out on benefits and cool features (like those listed above).
While a subscription will bring your Twitter cost up, it comes with some other benefits you should know about.
Verification badge
The only way to get a blue badge on Twitter is to sign up for Twitter Blue and have your account verified.
If you are an organization or a government body, you can also receive a gold or grey badge once you sign up for the Verified Organization subscription.
Access to features
With a Twitter Blue account, you'll immediately gain access to all of the features listed above. If you're one of the people who has been begging for an Edit button for years, that perk alone may be worth the price of admission.
Dedicated subscription support
Twitter Blue subscriptions have a dedicated service helpline. If anything goes wonky with your account, you can just hop on a call with a Twitter rep. This is an especially useful benefit to have while Twitter tweaks and adjusts processes for these new subscription models.
Potential for reduced ads
Twitter Blue subscribers should see "approximately twice as many organic or non-promoted Tweets placed in between promoted Tweets or ads." That's a pretty big win for user experience.
Better quality conversations
The whole point of Twitter Blue is to improve the conversations on Twitter. Depending on what's most important to you, that may look like the freedom to create and publish the content you want, view the content you want to see, or digest content on the app more easily.
In theory, if you subscribe to Twitter Blue, it'll be easier to connect with other people who share your passion for the app. That means the quality of conversations you can have on Twitter will likely improve.
How to subscribe to Twitter Blue in 3 steps
If you're ready to get started with Twitter Blue, here's how you can sign up in three easy steps!
Step 1: Sign up for Twitter Blue
Sign up for Twitter Blue by heading to twitter.com and selecting More > Twitter Blue > Subscribe.
Source: Twitter
From your phone, head to your Twitter app, then navigate to your profile menu > Twitter Blue > Subscribe. You can also head to the Twitter Blue Twitter page.
Twitter Blue is now available globally! Sign up today to get your blue checkmark, prioritized ranking in conversations, half ads, long Tweets, Bookmark Folders, custom navigation, Edit Tweet, Undo Tweet, and more. Sign up here: https://t.co/SBRLJccMxD

— Twitter Blue (@TwitterBlue) March 23, 2023
If you're looking for a Twitter verification badge, you will want to make sure your account passes the eligibility criteria and that you've confirmed your phone number.
To meet the eligibility requirements, your account must be:
Complete
You need a display name and profile photo on your account
Active
You need to have been active in the 30 days prior to subscribing to Twitter Blue
Secure
You'll need an account that's more than 30 days old and to confirm your phone number
Non-Deceptive
Your account best be who you say you are; no recent changes to your profile photo, display name, or username
Your account also can't be misleading or deceptive, or engage in platform manipulation or spam
Step 2: Pay your dues
Fill in your credit card information and hit Subscribe.
Step 3: That's it!
Congratulations! You are now signed up for Twitter Blue. You can start using all Twitter Blue features immediately.
If you're looking for the elusive blue checkmark, you'll have to wait a tiny bit longer. Twitter's team will review your account and either verify it or let you know you've failed. You can check your status by heading to the Twitter Blue settings.
Frequently asked questions about Twitter Blue
Still have questions? We've got answers to your frequently asked questions about Twitter Blue.
What is the point of Twitter Blue?
Twitter Blue is a subscription service that allows you access to premium features and benefits on the app. Subscribers enjoy expanded reach, prioritized tweets, and other features that make conversing on the app that much better.
For many, the point of Twitter Blue is also to receive a blue verification badge, which can give your account legitimacy.
Is Twitter Blue still available?
Yes! Twitter Blue is now globally available.
Is it worth getting Twitter Blue?
That depends. Many content creators, marketers, and brands will want to get Twitter Blue for any number of reasons. It could be that you want to give your business an air of legitimacy online or that you want to have priority replies. There are a ton of features that can make Twitter Blue worth it.
Does Twitter Blue affect the algorithm?
As far as we know, the Twitter algorithm remains unaffected by a Twitter Blue status. But, because Twitter Blue is a recent upgrade, it still remains to be seen whether or not a subscription can affect your Twitter algorithm.
What do the different colored Twitter checkmarks mean?
Alongside Twitter Blue, Twitter has launched Twitter Verified Organizations. With Twitter Verified Organizations, an account on Twitter can have either a gold or a grey checkmark. The gold checkmarks mean an account is a verified business. The grey checkmarks mean it is either a government or multilateral account.
What is an affiliation badge?
An affiliation badge on Twitter signals that an account is connected to an organization. An affiliation badge will contain the profile photo of a Verified Organization and can be applied to all affiliates of the organization. The checkmarks associated with affiliated accounts may be gold, grey, or blue, depending on the type of account.
check out our new square affiliate badge!

through Twitter Blue for Business, companies can distinguish their brands and key employees on Twitter. we're piloting this with a small number of businesses with more coming soon. learn more: https://t.co/e3rc5cqj5R

— Twitter Blue (@TwitterBlue) December 19, 2022
Save time by using Hootsuite to manage your Twitter presence alongside your other social channels. You can run contests, share videos, schedule posts, and monitor your efforts — all from one convenient dashboard! Try it for free today.
Do it better with Hootsuite, the all-in-one social media tool. Stay on top of things, grow, and beat the competition.