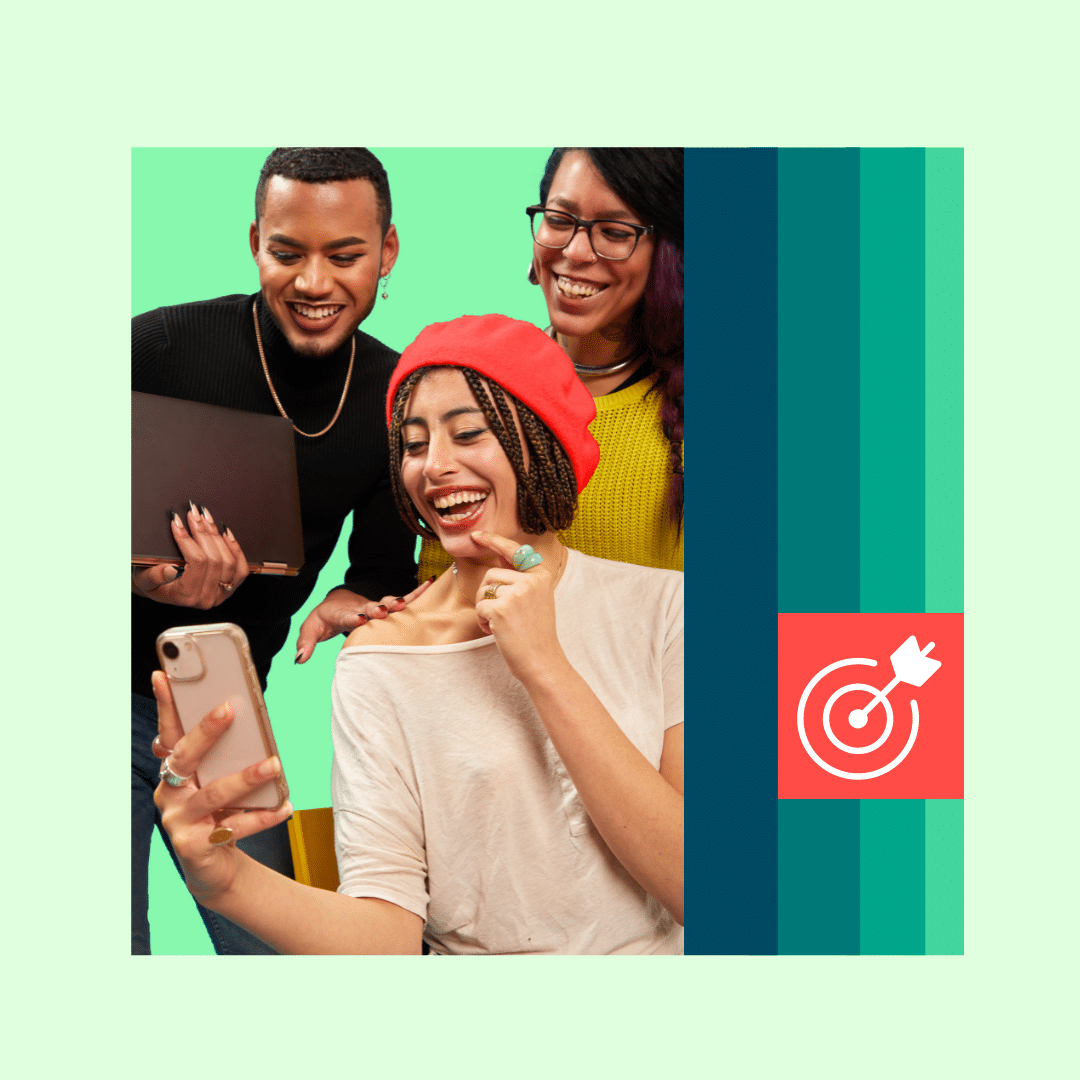 A bank social media policy is essential for any financial institution to protect against legal and reputational risks.
Inappropriate employee, customer, or vendor posts can severely damage a bank's reputation and result in regulatory fees – as can financial misinformation, poor customer service responses, and violations of customer privacy.
Creating an effective bank social media policy means accounting for all potential risks associated with using social media. It can also include training, audit processes, employee protocols, and more.
Here are some tips for creating and implementing a successful social media policy for bank employees.
Bonus: Get a free, customizable social media policy template designed specifically for banks to quickly and easily create guidelines for your financial institution.
Financial service institutions have a responsibility to protect their customers' data, maintain the integrity of their services, and manage their reputations. A social media policy helps ensure that bank employees take appropriate steps when using social media on behalf of the institution.
Creating a bank social media policy can:
Protect a bank's reputation and brand
Millions of conversations happen every day on social media. Customers, employees, vendors, and more may be talking about a bank online. Clear social media policies are important for institutions to handle feedback and negative conversations proactively. These policies should define appropriate and inappropriate conversations and how to manage negative feedback.
Safeguard customer information and data
Social media can be used to distribute sensitive information about customers, such as account numbers and financial statements. A clear policy outlining what type of customer data is allowed on social networks helps protect private data.
Help employees use social media responsibly
In many cases, bank employees become responsible ambassadors of their organization on social networks. By establishing guidelines for employee conduct, banks can help ensure that staff members do not post inappropriate or unprofessional content online.
Improve customer service
Modern banking customers expect to find, communicate, and problem-solve with their banks online. Bank social media policies create guidelines around how customer service should be addressed on social media, such as responding to questions in a timely manner and being respectful when dealing with customer issues. This helps ensure customers receive superior service and support, even when using digital channels.
Simplify crisis management
Social media can be a double-edged sword during a crisis. Bank policies for social media enable banks to take swift action when needed and protect their brand from any potential damage caused by negative posts or comments.
With guidelines in place, it's easier to manage any PR emergencies while remaining professional and protecting the brand. So, hopefully, we all avoid the next Silicon Valley Bank Twitter-fuelled bank run. Yikes.
Stay compliant and avoid legal missteps
Banks are required to comply with several laws and regulations. A bank social media policy ensures that banks adhere to industry standards in all communications, including on social media platforms. This helps ensure the bank is compliant with relevant regulations and has a reputation for being reliable and trustworthy.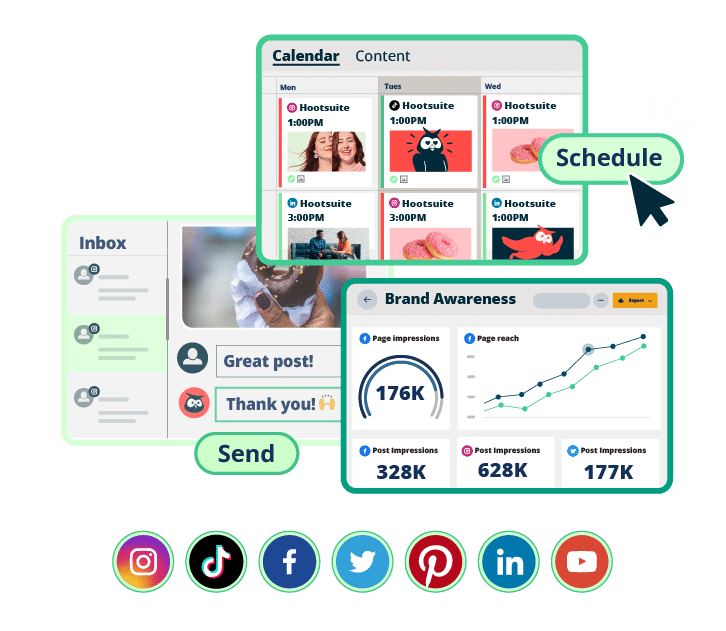 #1 Social Media Tool for Financial Services
Grow your client base with the tool that makes it easy to sell, engage, measure, and win — all while staying compliant.
While bank social media policies may have cross-over with general social media policies, there are some key elements to consider when writing a policy specific to a bank.
Here are some of the top features banks should include in their social media policies:
1. Active channels and employee access
A bank's social media policy should begin by outlining all the active social media platforms used by the bank and how employees can access them. It should also explain who is authorized to post on each platform, how content should be approved and any other guidelines for managing official channels.
2. Regulatory and compliance
Before employees engage with customers or post content, they need to be aware of any relevant laws, regulations, or rules set out by government agencies and industry associations. This might include The Bank Act in Canada, or the Consumer Financial Protection Act in the United States.
Make sure to include all relevant regulatory and compliance requirements in your policy so employees know what is required of them when posting on behalf of the bank. This might include avoiding false or misleading statements, disclosing account numbers and other required information, and abiding by the bank's code of conduct.
3. Appropriate conduct
The internet never forgets, and there is no shortage of examples of social media posts landing companies and employees in serious hot water.
But internal flubs aren't the only thing to watch out for when it comes to social media. When employees post on any kind of social media while representing the bank, they must be aware that their posts could impact customer opinion and trust in the business.
By creating a bank social media policy, you can set expectations around appropriate conduct online, such as avoiding offensive or controversial content, adhering to the same customer service expectations online as they do in-person, and refraining from interacting with disgruntled customers.
In addition, make sure your policy provides guidance on how employees should identify themselves when posting on social media (e.g., not using their official bank email), how they should handle sensitive information and any legal guidelines they must follow.
Your policy should also note that employees should be careful about how much information they share online. Discretion and professionalism are key when posting on social media as a bank employee. A good policy will make sure all staff understand the expectations set forward by their employer.
4. Crisis management
Social media crises are a reality for any institution. No matter how carefully you craft your social media and customer service policies, there are bound to be times when customers or members of the public have a negative response to your online presence.
Be sure to detail how to deal with public crises, political crises, customer crises, and internal crises. You may also want to establish a chain of command that employees can follow for advice and guidance during times of crisis.
5. Privacy and confidentiality
Finally, a bank's reputation hinges on consumer trust. It is paramount that banks protect customer information and make sure it remains confidential to prevent any privacy breaches.
A bank social media policy should include guidelines on how employees are expected to handle customer data and how to protect them from potential security risks.
Bonus: Get a free, customizable social media policy template designed specifically for banks to quickly and easily create guidelines for your financial institution.
Looking for examples of great examples of bank social media policies? Here are a few to get you started.
1. Bank of Canada
Social media policies don't have to be complicated, but they do have to be detailed.
The Bank of Canada outlines its social media policy on a thorough web page available publicly to employees and consumers.
The policy starts by outlining which social platforms the Bank of Canada officially operates on, who manages them, and the communication standards expected from both bank employees and customers.
This bank social media policy also offers clear expectations on how to properly use links and endorsements. Plus, what kind of language use and accessibility customers can expect from its platforms.
Source: Bank of Canada
2. Bank of Ireland
Across the pond, the Bank of Ireland outlines its bank social media policy in a graphic, interactive webpage.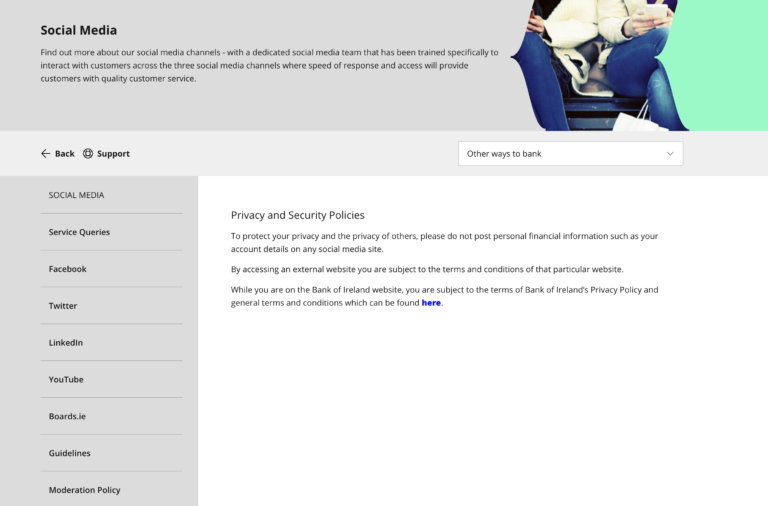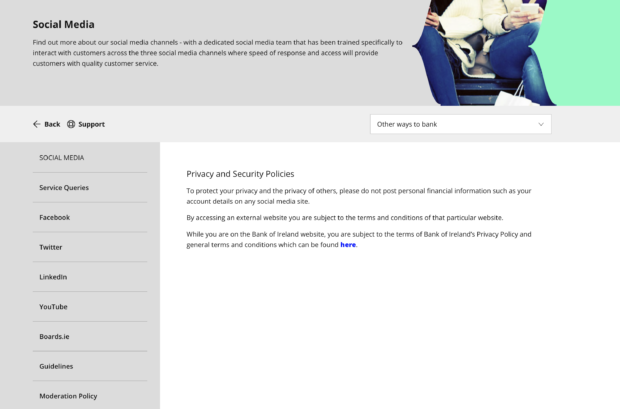 Source: Bank of Ireland
This bank social media policy outlines strict rules about what is and is not acceptable from Bank of Ireland accounts. This includes declining to give financial advice or advice on products over social media, as well as when the bank chooses to moderate or censor certain content.
Source: Bank of Ireland
There are also clear breakdowns for each of the bank's active social channels: Facebook, Twitter, LinkedIn, YouTube, and Boards.ie, so both consumers and employees understand why and how these channels are used.
Source: Bank of Ireland
3. Royal Bank of Canada (RBC)
Social media policy is often intertwined with other internal discussions around ethics and integrity.
In the case of RBC, these ideas were so connected that they packaged both into a detailed, visual PDF package that outlines expectations from RBC employees and customers on all channels.
Source: RBC
The PDF aligns social media policy with RBC's wider vision and values, explaining why and how these values are applied to internal and external communications.
Employee use of social media, both business, personal, and corporate, is outlined as an essential part of a wider commitment to integrity.
Source: RBC
The visual design and values-aligned copy make this bank social media policy a breeze to read, and a memorable asset.
It's one thing to build a bank social media policy, but it's quite another to put it into action. Here are five steps to help ensure successful policy implementation:
Share the policy: Make sure all bank employees are aware of the policy by distributing a copy and providing clear instructions on how to follow it.
Educate and train: Provide training sessions and ongoing reminders about the policy and its importance. This will help ensure that everyone knows and understands their responsibilities.
Monitor compliance: Regularly check employee activity on social media platforms to ensure they are following the policy. If employees are found to be in violation of the policy, take disciplinary action as needed.
Review and update: As social media evolves, so should your bank's policy. Make sure to review and update it regularly in order to stay-to-date with changes.
Take feedback seriously: Encourage employees to give their feedback on the policy so that you can make necessary changes as needed.
Use the right tools: A social media policy is only as successful as its daily implementation. Using the right social media management tool can help your team follow your policy, submit posts for approval, and monitor content for compliance on the go. Here's how Hootsuite helps social teams in the financial services industry:
What banking regulation covers social media?
Depending on your country of operation, different banking regulations may cover social media use. Here are just a few:
Contact your local governing authority to learn more.
What are the ethics for social media by bank employees?
Bank employees should understand that their actions on social media can have a direct impact on the bank's reputation and should, therefore, follow a few ethical rules when posting.
This includes:
Respecting confidentiality: Stick to general topics that don't breach customer privacy.
Keeping it relevant: Be mindful of what you post and who your audience is – try not to post content that is of a personal nature or unrelated to your bank.
Refraining from negative comments: Avoid making disparaging remarks about the bank, its services, and other customers.
Maintaining professionalism: Be aware of any terms and conditions in the bank's social media policy. Ensure you keep posts free of offensive language and maintain respect for other users.
What is the role of social media in banking?
Social media in banking is a great way for banks to engage with their customers, build trust and loyalty, provide customer service, and stay current on the latest trends in banking. It also helps banks showcase their products and services, as well as keep up to date with industry developments.
Hootsuite makes social marketing easy in the financial services industry. From a single dashboard, you can manage all your networks, drive leads, provide customer service, mitigate risk, and stay compliant. See the platform in action.
Get more leads, engage customers and stay compliant with Hootsuite, the #1 social media tool for financial services.