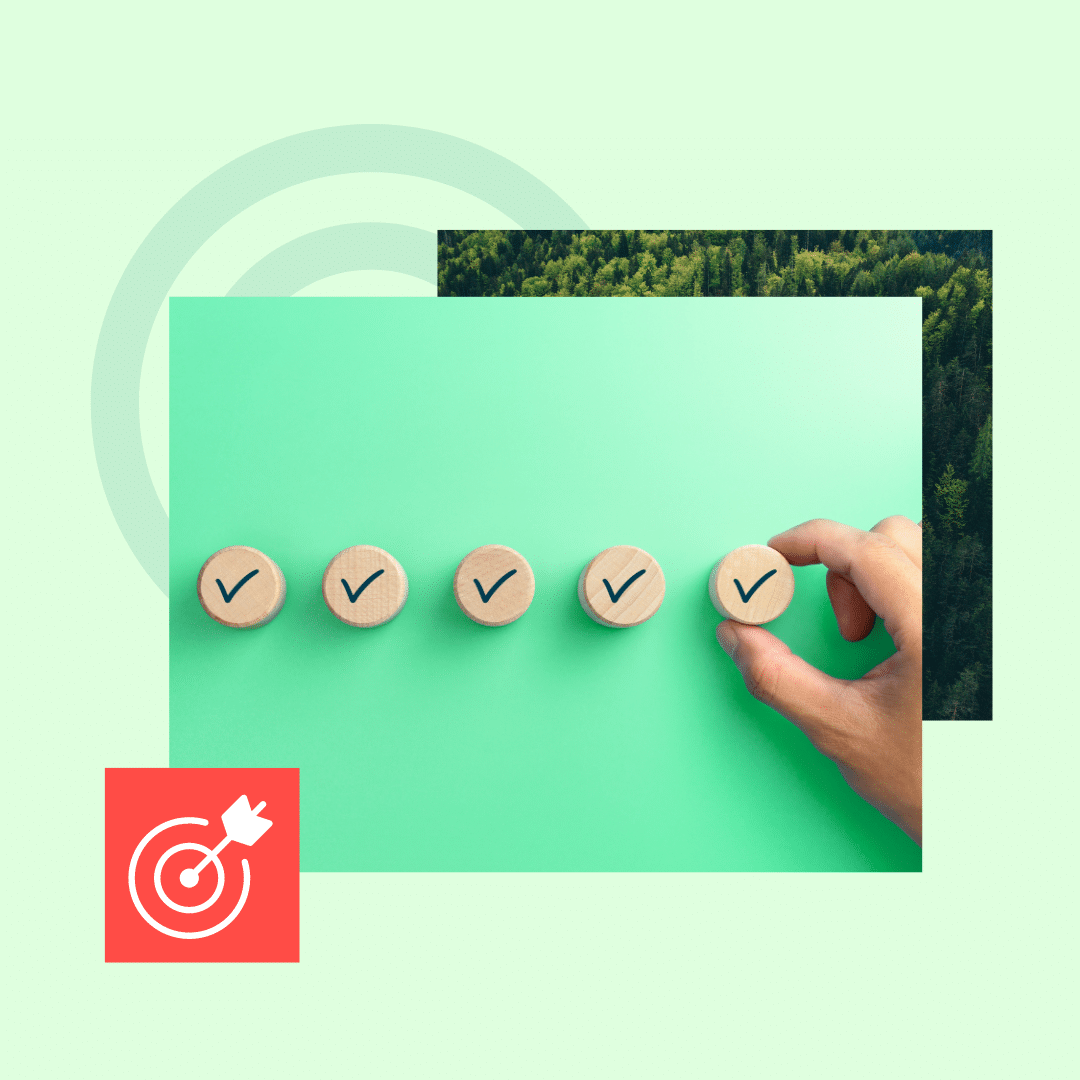 You have the right to remain silent on social media, but you shouldn't. Social media for law firms brings in clients, boosts your credibility, and keeps you up to date on your competitors.
In fact, 71% of lawyers are currently getting clients from social media despite 43% of firms not having a marketing budget.
That equals big opportunity for law firms willing to invest in social media. (We'll get into more details, but the spoiler is: You don't have to spend a ton to see big results.)
What should you post? What are the best social media platforms for lawyers? Read on for how to create a winning social media marketing strategy for law firms.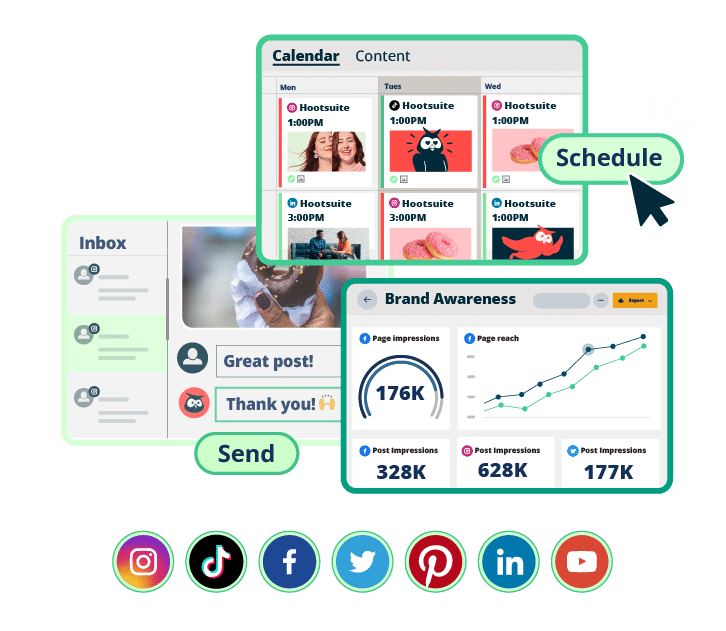 #1 Social Media Tool for Lawyers and Law Firms
Win new clients and grow your practice with the tool that makes it easy to reach and engage with prospects on social media.
Building awareness
Did you know 1 in 4 people won't hire you without a recognizable web or social media presence?
Source: Main deterrents to hiring an attorney according to legal consumers in the United States and Canada in 2021, Statista
Of course, part of using social media for brand awareness is the ongoing upkeep of posting content, replying to comments, and knowing the latest social media trends. But the effort creates familiarity before someone even reaches out.
Think of social media marketing for lawyers as the same as sponsoring community events and golf tournaments. Why do you do that? To get your name out there and build a local reputation.
Improving trust and credibility
Social media has a built-in trust maker: Reviews. Nothing provides better social proof than reviews and testimonials from real customers. Encourage followers to review you on all platforms you have a presence on, including Google My Business and social media.
Source: Goldstein Immigration Lawyers on Facebook
Customer service
Your social media profiles are part of your customer service experience whether you think of them that way or not. 40% of your potential customers expect companies to connect on their preferred social media channels.
Almost half (47%) of consumers say timely responses to their questions will sway them to buy from one brand over another. When asked specifically about hiring a lawyer, 48% of people said response time was the most important factor — even beating out price.
Source: Most important factors when hiring an attorney according to legal consumers in the United States and Canada in 2021, Statista
Social media won't (and shouldn't) replace one-on-one customer service responsibilities, but it plays a crucial role in attracting prospective clients. You won't be giving out legal advice in your DMs, but responding to inquiries is responsiveness in action, making it more likely someone will choose you (even if it's just a standard response linking people to your website).
With Hootsuite, you can quickly and easily reply to comments and messages across all your social profiles from one place. (The same place you can also plan, schedule, and publish all your content.) Create saved replies to answer common questions, or direct people to your online appointment booking form.
Check out how it works — and how much time you'll save — in under 2 minutes:
Social listening
Social listening tells you everything you ever wanted to know about your target audience but were afraid to ask. Social listening means you (or more accurately, the apps you use) comb the web to find everything people are saying about you online.
That includes reviews on websites and forums, comments and posts on social media, and more. It means you can proactively identify and comment on posts and keep an eye on what people are saying about your competition, too.
The possibilities for social listening are endless. Keep it simple with Hootsuite Streams, where you can monitor keywords, social media accounts, and respond to mentions right from your Hootsuite dashboard.
Or, take it up a notch with Talkwalker, which automatically scans over 150 million sources to intelligently discover your top engagement opportunities. Its advanced analytics provides at-a-glance sentiment analysis, so you can tell if customers are happy or if you have a PR crisis looming on the horizon.
Lead generation
Did you know over three quarters of lawyers use social media for personal networking, but only half (52%) use it to generate leads? At the same time, 29% of law firms say retaining and growing business is a top challenge, and 25% want better tech for managing client relationships.
Hello, is it social media you're looking for? (Yes.)
When it comes to leads, social networking helps in an indirect way by building brand awareness. And in a direct way with specific tools, like adding an action button on Facebook, or links in your Instagram bio.
Or, experiment with social media advertising to really ramp up leads.
Source: Hamilton Law on Facebook
Recruitment and retention
Finding great employees remains a challenge in today's labor market for almost everyone, law firms included. Over a third are currently hiring and 84% of those say it's difficult to find talent.
Besides helping you get clients, showcasing your brand on social can make you stand out as a firm lawyers want to work at. Is it going to be the only factor in their decision of where to apply? Of course not. But the more you show the types of work you do, your atmosphere, and values, the more of a reputation you'll earn for being a firm people want to be part of.
Visibility in Google search results (and across the web)
Yes, traditional Google SEO is still relevant for law firms as many people start with a simple search of "lawyer near me." And yes, your social media presence does impact those results.
Google says social media isn't a ranking factor by itself, but the key phrase is "by itself." Posting on Facebook won't magically make you the first in Google search results, but establishing a strong presence and getting people talking about you online can.
Your own social media content? Doesn't really matter for SEO.
But when your followers mention you on their profiles, or heavily-indexed websites like Reddit? Google amplifies that and ranks it higher.
This is especially true since January 2023 when Google's "helpful content update" went into effect. This looks for and boosts "people-first" content intended to help others and lowers the ranking of overly self-promotional or unhelpful content.
Plus, Google's algorithm makes hundreds of split-second judgments on how legitimate or trustworthy a company is before ranking results. Multiple factors go into those decisions, potentially including your social media presence.
Social SEO matters, too! Separate from web search, social SEO refers to using similar practices, like keywords, to boost discovery on social platforms. For example, if I'm in Sacramento, I'm much more likely to click on this page than the others because I know for sure they have an office in my city.
Source: Facebook
The platforms you choose to focus on should reflect your target customer's demographics as well as the skills of who will be doing your social media marketing.
Love video? Embrace Instagram Reels or TikTok.
Work with older adults? Facebook's your best bet. (Although I'd argue every business should be on Facebook.)
Before setting up your profiles, grab our free Digital Trends report to learn why people use each network and all the demographic info you need to know.
And remember: These are only guidelines. There's no "wrong" social media platform. There's just right and wrong ones for you.
Facebook
You need Facebook. It's the world's most used social media platform. It also happens to be the favorite social media platform for everyone ages 35-44, and men ages 25-34.
Facebook's user metrics alone make it a great fit, since of the estimated 1 in 4 people currently experiencing a legal issue, half are Millennials.
Facebook is the perfect place to find your target audience. For a deep dive, check out this perhaps-too-complete guide to Facebook marketing strategy.
How law firms are using Facebook:
Instagram
Since Instagram is a visual-first platform, lawyers who enjoy creating graphics or video content can quickly build a following. So can firms with dedicated content marketing budgets, as often creating new content requires ongoing resource investment.
Instagram is especially useful for independent lawyers or small teams where you can let your personality shine through Reels or in your captions.
Educational or entertaining content does best on Instagram, and users will decide within the first few seconds whether to keep watching. Make sure you've got a great hook within the first 3 seconds, and deliver value without filler.
Follow this step by step Instagram marketing strategy to succeed in 2023 and beyond.
How law firms are using Instagram:
Describing new laws with swipeable carousel posts.
Teaching tips for everyday situations, like reviewing contracts or applying for jobs.
Showing "behind the scenes" views of their firm or team.
LinkedIn
LinkedIn has 930 million users, which is almost one third of Facebook's almost 3 billion users. But all of those 930 million people are business people.
This makes LinkedIn perfect for firms specializing in business law, like compliance, intellectual property, and more. You can also attract consumer clients, though they're more likely to find you elsewhere.
It's a must for personal networking, too: 90% of lawyers are already building relationships on LinkedIn. Read our LinkedIn marketing guide to ensure you stand out.
How law firms are using LinkedIn:
Brand awareness campaigns.
Hiring and recruiting top talent, and advertising open roles.
Creating educational content for B2B audiences in areas like contracts, commercial real estate, business setup, and related fields.
TikTok
If you're cool, you know TikTok is more than trends. Businesses of all kinds can do well there. For lawyers, it best suits independent or small teams since it's all about showing personality, and users want authentic, candid content.
If your target customers are on TikTok, creating entertaining, authentic content has a good chance of finding them. The average TikToker spends 1.5 hours daily on the app, the highest of any social platform by far.
Check out our complete guide to crafting your TikTok marketing strategy.
How law firms are using TikTok:
Building brand awareness.
Combining entertainment and education to make legal knowledge more accessible to all, including Gen Z.
Social media marketing for law firms: 6 best practices
Understand your audience
Obvious, yes, but it needs to be said. Understanding your audience doesn't mean only knowing their demographic info. It also doesn't mean you have to know them so deeply that you know what color socks they wear on Tuesdays.
So what does "understanding your audience" mean?
It means you should know:
Their basic demographic profile (age range, income range, location, family status, etc).
Other demographics depending on your field of law, such as if they're a business owner, have children or not if you specialize in family law, etc.
The most common legal issue(s) they're dealing with, or likely to experience.
Their comfort level with legal language.
What they care most about. Saving time? Make short-form video content. Deep knowledge or thought leadership on a subject? Long-form video, blog posts, or articles, linked to from your social media. You get the idea.
Post consistently
You can have the best social media content ever but will fail to gain a following if you're not posting consistently. Yep, quality content matters but so does how often you post.
As for how often to post on social media, there's no 100% correct "rule." But generally speaking, at least once per week and ideally more like 3-5 times per week.
Don't worry, technology is here to save the day: With a single button, Hootsuite analyzes your past post performance to tell you when your audience is most likely to see it your content.
Invest in branding
Sorry, a logo isn't the only thing you need for social media marketing. Social is a visual landscape and the more you infuse branding into your content, the more memorable your firm will be. Which means more people will remember who you are when they need a lawyer.
If you don't have an in-house marketing team, branding doesn't need to be super expensive. Hire someone to create social media graphics — like profile headers, icons, and post templates — or DIY it yourself with a tool like Canva.
Once you have branded templates, you only need to customize them for each social post which saves time and money in the long run. Plus, you can edit Canva templates inside Hootsuite Composer, which saves even more time and even more money.
Start off with these 50+ professionally designed free Canva social media templates that you can customize to make your own.
Engage your audience
Just like knowing your audience, engaging them is another thing every marketing blog says. Don't shoot the messenger. Engage the messenger.
Engaging your audience is:
Replying to their comments on your posts
Promptly replying to direct messages
Measurable by your average engagement rate
Meaningfully engaging your audience is also:
Using social listening tools to find discussions outside of your profiles and comment on those
Asking for feedback and following through
Asking questions and starting conversations without the goal of getting leads, but simply as a human being talking to other human beings
Know your goals
As Laurence J. Peter said, "If you don't know where you are going, you will probably end up somewhere else." Knowing your goals is a must.
First, create your social media strategy. Then set specific social media goals for each platform.
Measure your goals
To continue Peter's thought above, you also won't know when you've arrived at your destination unless you measure progress along the way.
Check your social media analytics at least monthly, and run a quick social audit at least quarterly to identify opportunities to improve.
Or you could get Hootsuite Analytics to do it all automatically and have insightful data for every platform, together, at your fingertips with a second's notice. Including paid advertising ROI, your top content, and customizable reports.
1. Share useful legal advice
It's always a good idea to use recent cases, or notable precedents, to educate your audience about the legal system. You don't want to scare your audience into thinking they'll be sued every ten minutes, but your tips could save them money and headaches.
Why it works:
People love to learn new things: 44% regularly seek out educational video content on social media.
Builds trust in you, making it more likely for someone to reach out if they need to hire a lawyer.
2. Infographics with facts and statistics
If video isn't your thing, graphics are another popular format for educational content. They can be as simple or as complicated as you want, although simple usually does better on social media.
This one provides a nice visual representation of a term:
Carousels are perfect for this on Instagram. Repurpose the slides for video platforms like TikTok or YouTube Shorts by adding a voiceover talking about the topic.
For even greater impact, use TikTok's green screen feature to speak to the camera in front of your slides.
Why it works:
Easy to repurpose across all your social platforms.
Builds authority.
3. Inform your audience of new or updated laws
You already stay up to date on the latest laws and regulations, so why not share that knowledge? The general public may hear about the big cases, but they often wouldn't know of smaller, or industry-specific, legislation changes for a long time.
This can be as simple as a text post linking to a news article, or create a Reel or TikTok video about it.
Source: Amee Sandhu on LinkedIn
Why it works:
Develops your reputation as being knowledgeable and current.
May spur people to contact you for advice if the new law applies to, or would benefit, them.
4. Promote a client review
When hiring a lawyer, 32% of people say testimonials are the most important thing they consider. You probably use them on your website but don't forget to share them on social, too.
The best part? It's done-for-you content. Copy and paste the testimonial into a graphic template, add a brief caption thanking the client, and publish.
Why it works:
Quick to make and effective for lead generation. What's not to love?
Great for batching: Create a bunch at once and schedule them all in advance.
5. Feature a team member
Showing your own personality, or your team's, goes a long way toward making you (and your social profiles) memorable. It also shows rather than tells people your capabilities, which is especially important if you specialize in one area of law.
Why it works:
Humanizes your brand.
Builds trust.
Allows you to brag about your team's awards and accomplishments in a non-salesy way.
6. Share job openings
Certain networks, like LinkedIn and Facebook, are better for sharing open jobs than others. Don't stop listing jobs on traditional websites, but you may be surprised at the response a few quick social media shares can do.
Even if these posts don't bring in a ton of applicants, it allows potential clients a glimpse into your firm's values.
Why it works:
Your best candidates are likely already in your orbit, or are connected to someone who follows you. You never know who could see it and apply.
Lawyers wanting to switch firms or new grads may start following you so they don't miss future opportunities.
7. Speak from the heart
Storytelling is one of the most effective ways to capture attention online. While every post doesn't need to have a personal thought or experience behind it, sometimes sharing the why behind your firm will resonate much more deeply than sticking to the facts.
Why it works:
If your brand voice is more casual, this can be a great way to frame engaging content.
Human brains like stories. Multiple studies have shown emotion guides our decisions instead of logic, and stories change our minds, not stats and numbers.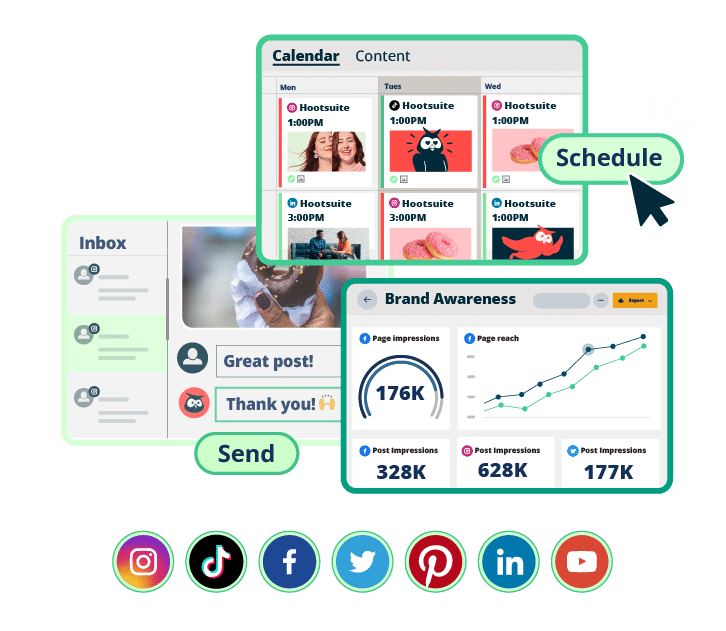 #1 Social Media Tool for Lawyers and Law Firms
Win new clients and grow your practice with the tool that makes it easy to reach and engage with prospects on social media.
What social media is most used by lawyers?
LinkedIn is the top social media platform for lawyers with 100% of solo lawyers and an average of 91% of lawyers working at firms using it. 89% of small firms (< 9 lawyers) and 95% of law firms with over 100 lawyers have LinkedIn company pages.
What should a lawyer post on social media?
The key to social media marketing for lawyers is to experiment with content to find what you like to create and what your audience responds to. Post educational and entertaining content regularly and you will see results.
Is social media important for lawyers?
Yes! 71% of lawyers are getting clients from social media right now.
Do lawyers use TikTok?
Yes. Only 31% of firms are currently creating video content for marketing. That isn't specific to TikTok, so lawyers on TikTok are a minority. However, the platform holds huge growth potential with some lawyers amassing over 7 million followers and trending hashtags like #LawyerTok.
Find and engage your audience with Hootsuite's powerful and easy-to-use social media scheduling, publishing, advertising, and analytics tools. Manage all your content and see the ROI of your efforts across all your social profiles in one place. Try it free today.
Get more clients and more wins with Hootsuite, the #1 social media management tool for lawyers and law firms.