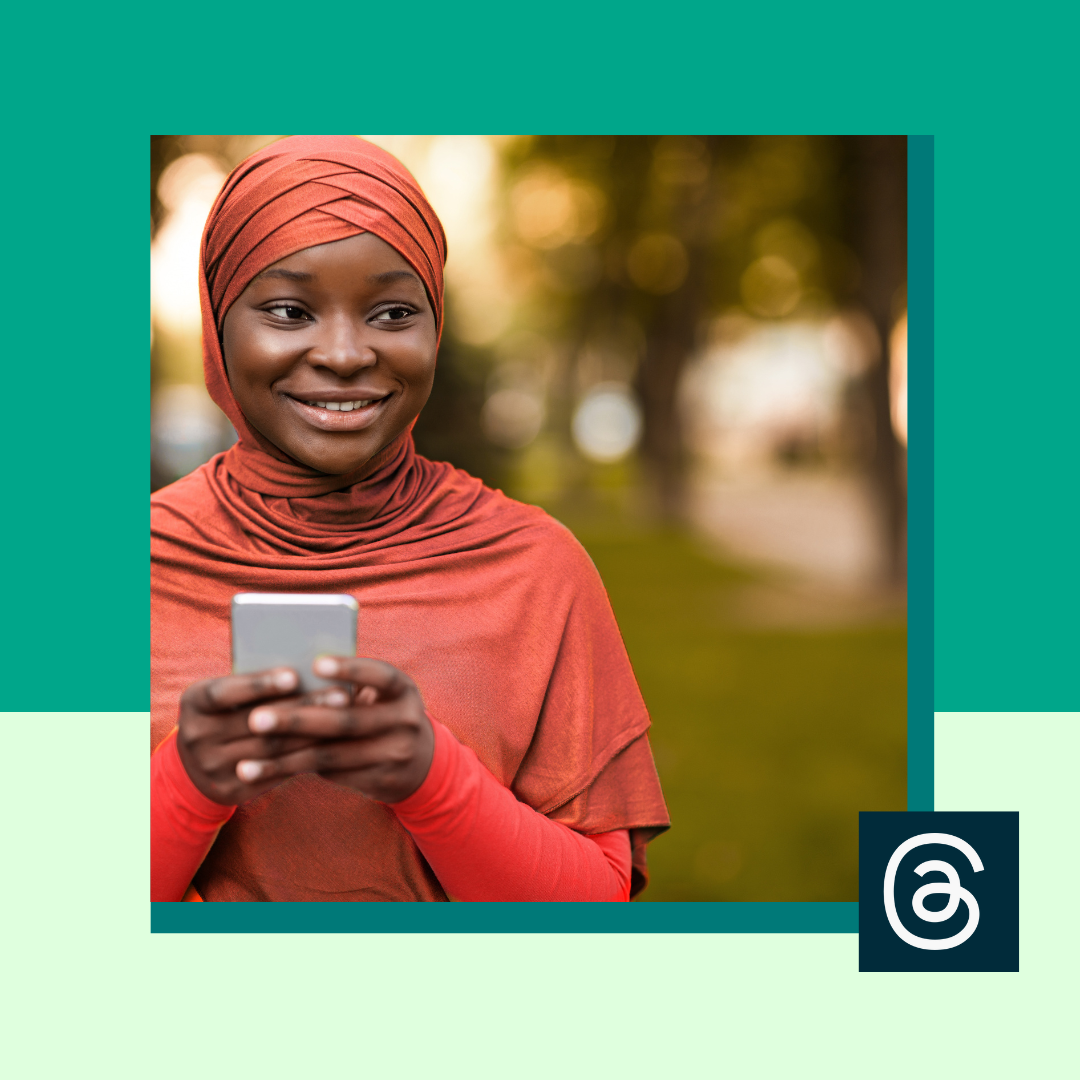 If you were on vacation last week, buckle up: Instagram Threads is the hot topic right now. The text-based app has taken social media by storm, with over 100 million new users joining in the first week.
But what exactly is Threads, and does it replace existing apps like Instagram or Twitter?
In this post, we're sharing everything we know about Instagram Threads so far. Whether you have a strategy in place or not, now's the perfect chance to start scrolling and "threading" away!
Bonus: Read the step-by-step social media strategy guide with pro tips on how to grow your social media presence.
What is Instagram's Threads app and how does it work?
Instagram's Threads is a text-based conversation app that launched on July 5, 2023.
At first glance, the Threads experience is a lot like Twitter. Both platforms offer a feed of text-based posts that allow users to follow what's going on in the world and start their own conversations.
When you join Threads, your feed will consist of accounts you follow along with suggested content from creators the Threads algorithm thinks you may like.
With up to 500 characters per thread and the ability to add photos, videos, and links, Threads is a great way to communicate with your network and the world at large.
(Confused about the difference between Threads, threads, posts, and replies? Instagram's already shared a handy cheat sheet.)
If the name "Threads" sounds familiar, that's because it is. Instagram first launched a product called Threads in 2019, which was then billed as a "camera-first messaging app that helps you stay connected to your close friends." The 2023 version of Threads replaces this product entirely.
How to get started with Instagram Threads in 6 steps
Because Threads is part of the Meta family of social media networks, the sign-up experience is fairly seamless. You can start using Threads in just six steps.
1. Download the app
Head to the Apple App Store or Google Play Store and search for "Threads, an Instagram app" to download and install the correct app. Threads is free to use.
2. Create your account
Threads is linked to your existing Instagram account, so unlike other apps, you don't need to sign up from scratch. Just click on your username at the bottom of the welcome screen.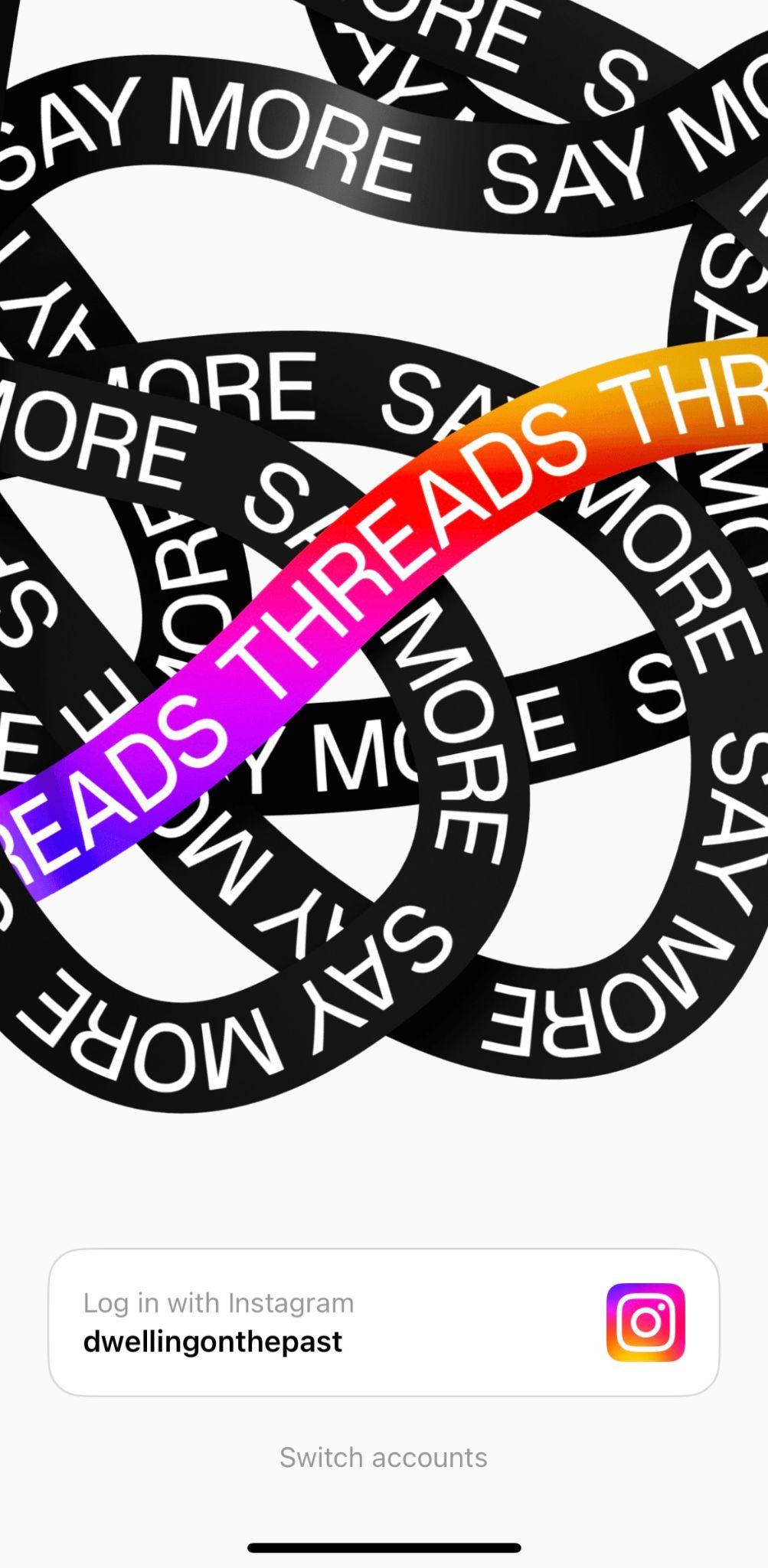 Note: If you manage multiple Instagram accounts, you can link each to their own Threads account. Just click Switch Accounts at the bottom of the screen to toggle back and forth.
3. Fill out your profile
Next, you'll see the Profile screen. You can either enter new details or import your existing Instagram bio.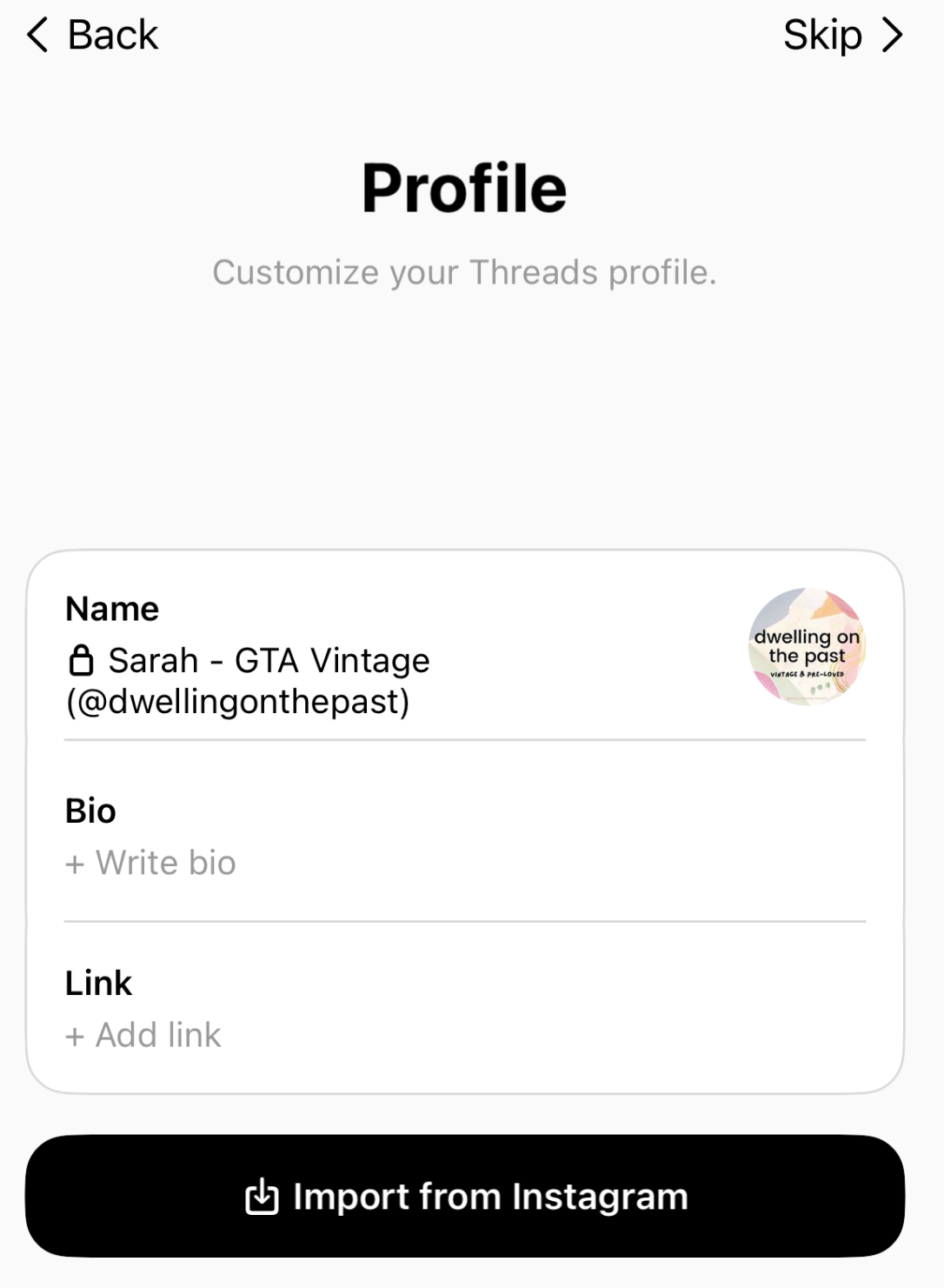 4. Choose your privacy settings
On this screen, you'll select from two privacy options:
Public profile. Anyone on or off Threads can see, share and interact with your content.
Private profile. Only your approved followers can see and interact with your content.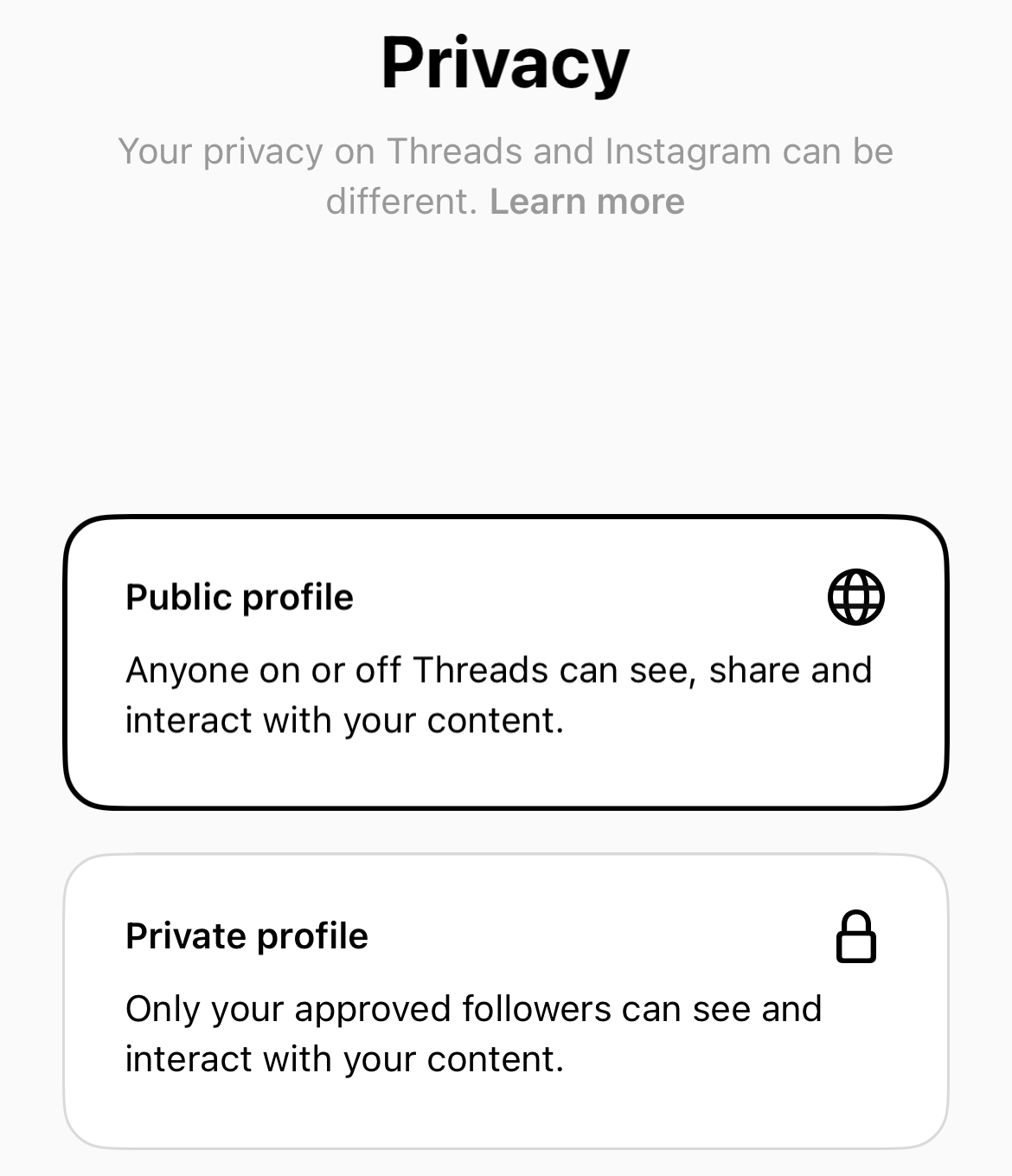 5. Import the accounts you already follow
Because Threads is so closely linked to Instagram, you'll have the option to auto-follow the accounts you currently follow on Instagram.
You can choose individual users to follow or click Follow all to import your full follower list.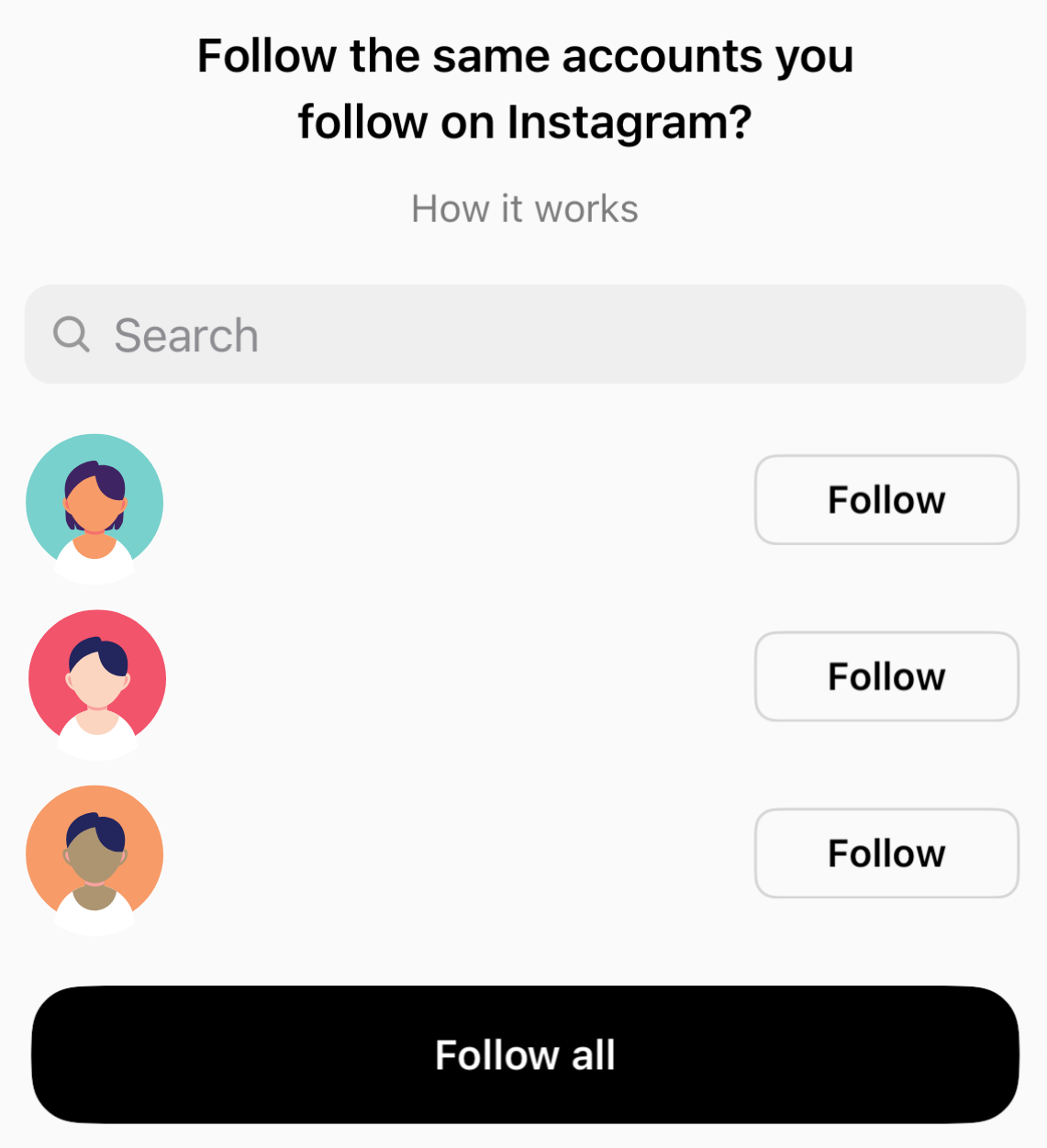 6. Agree to the terms of use
On the final screen, you'll be prompted to accept three pieces of information:
Threads is powered by Instagram and the information from both apps will be used to personalize your ads.
In the future, Threads will work with the fediverse (a group of independently hosted but interconnected servers used for web publishing). We'll have more on this as Threads announces further updates down the line.
By joining Threads, you agree to Meta's Terms and Policies. You can click each link to review the specific policy prior to joining.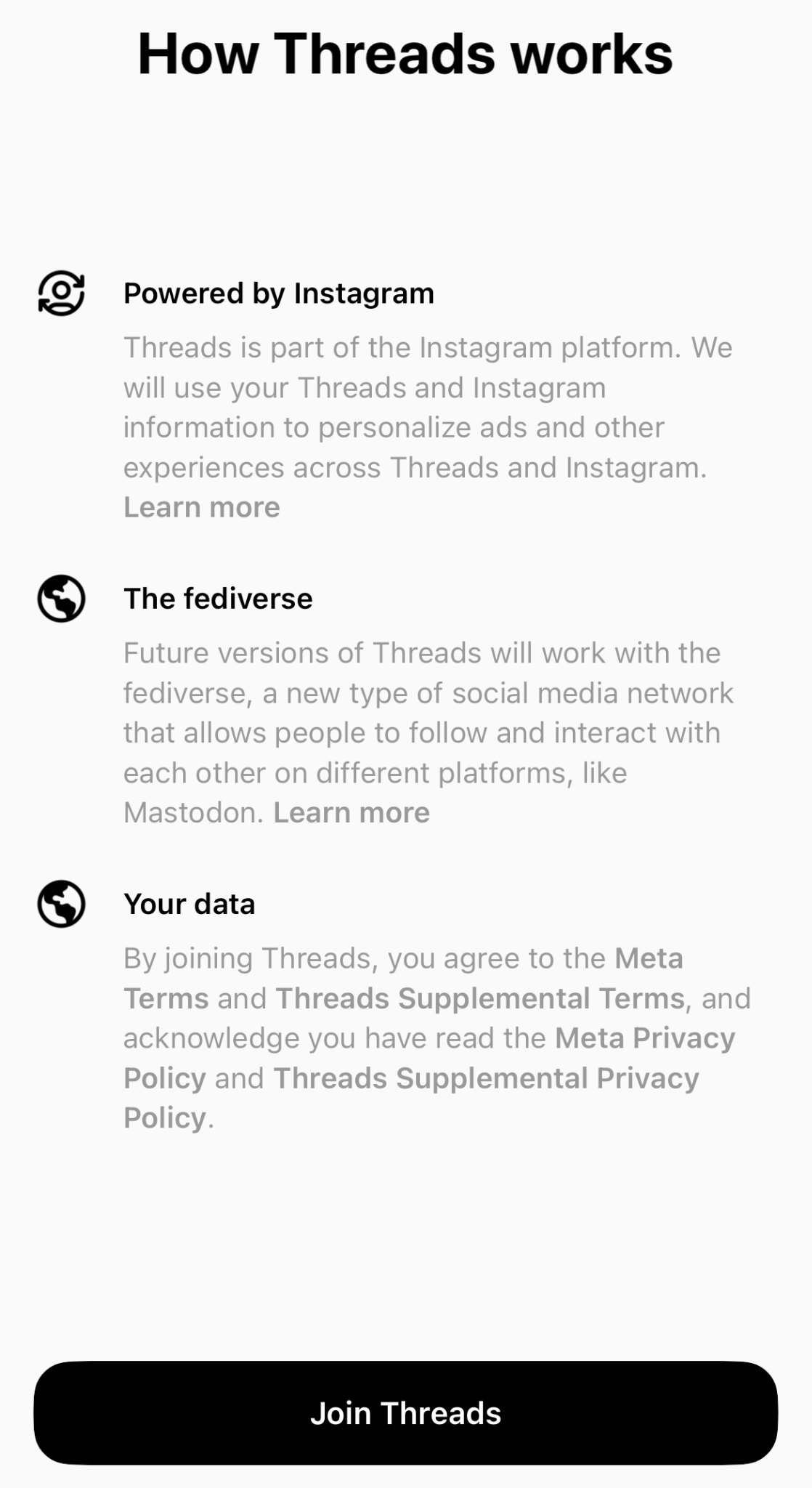 Once you're ready to go, click Join Threads, and you're done!
7 things you need to know about Threads
1. Your audience is already there
Threads crossed the 100 million user mark less than a week after its launch, making it the fastest-growing app in history.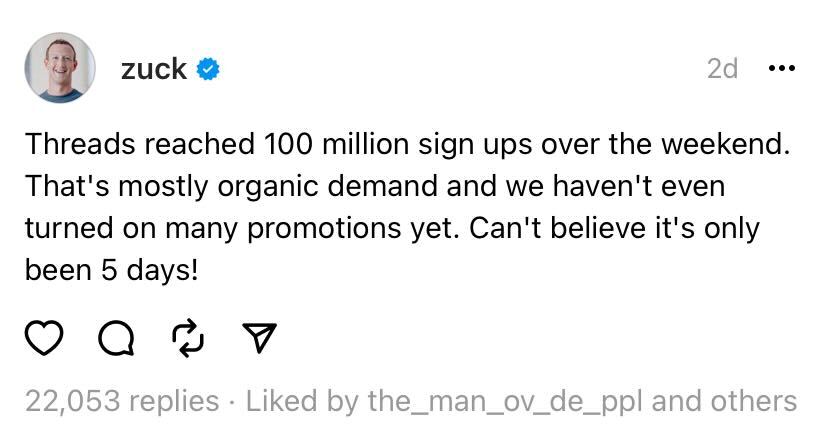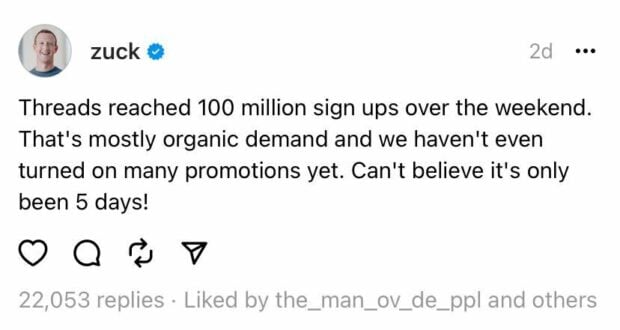 Chances are that your audience is among the millions of new users flooding the gates, so don't miss an opportunity to meet them where they are!
2. You can write your heart out
Each thread can be up to 500 characters long, almost double Twitter's 280-character limit.
Longer posts make it easy to express a complete thought or tell more detailed stories without making your followers dig through multiple posts to get all the information.
3. It's easy to interact with others
Interacting with other users on Threads is quick and easy. If you're an active Instagram user, three of the four icons at the bottom of each thread will look familiar:
A heart to like the post.
A quote bubble to reply directly to the thread. (On Instagram, tapping this icon opens the comment section.)
A repost button. Tapping this allows you to either repost the thread directly to your Threads profile or quote the thread while adding your own thoughts.
A paper airplane to share the post on another platform. Tap this to add the thread to your Instagram Story or feed, post it on Twitter, copy the link, or share via other means.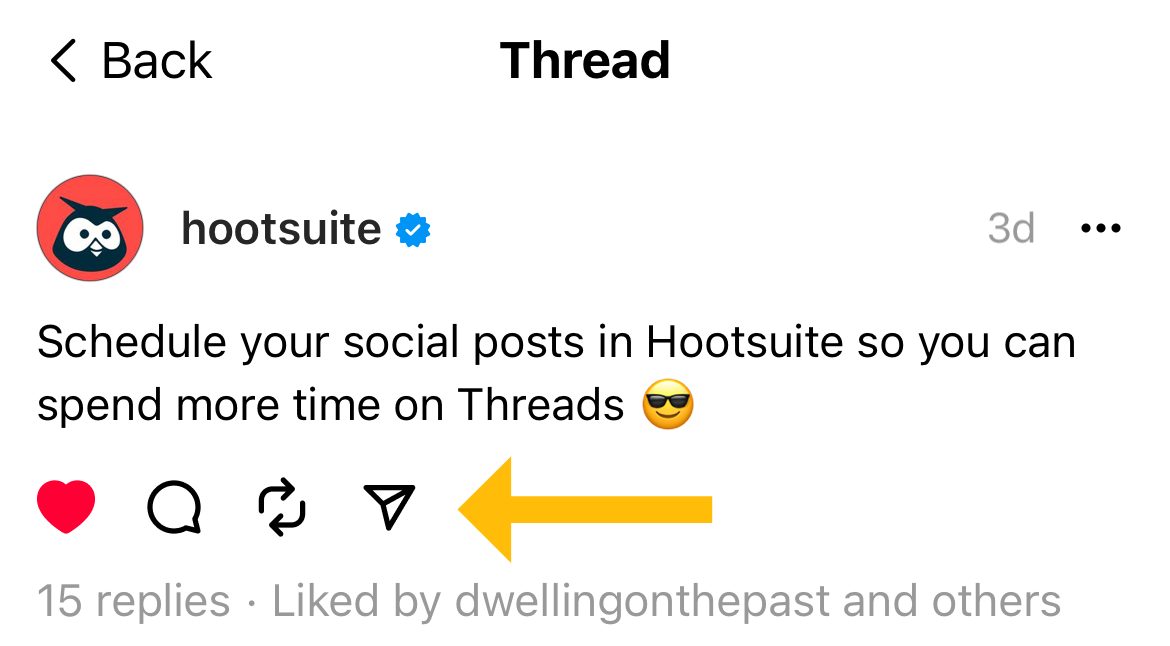 4. Crosspost from Threads to Instagram in a snap
Threads is basically Instagram's new bff, so Meta has made sharing content between the two networks super easy.
You can add your own post or any public thread to your Instagram Story.
Click the paper airplane at the bottom of the thread, select Add to story, and Instagram will launch automatically. From there, you can edit the post or share it directly to your followers.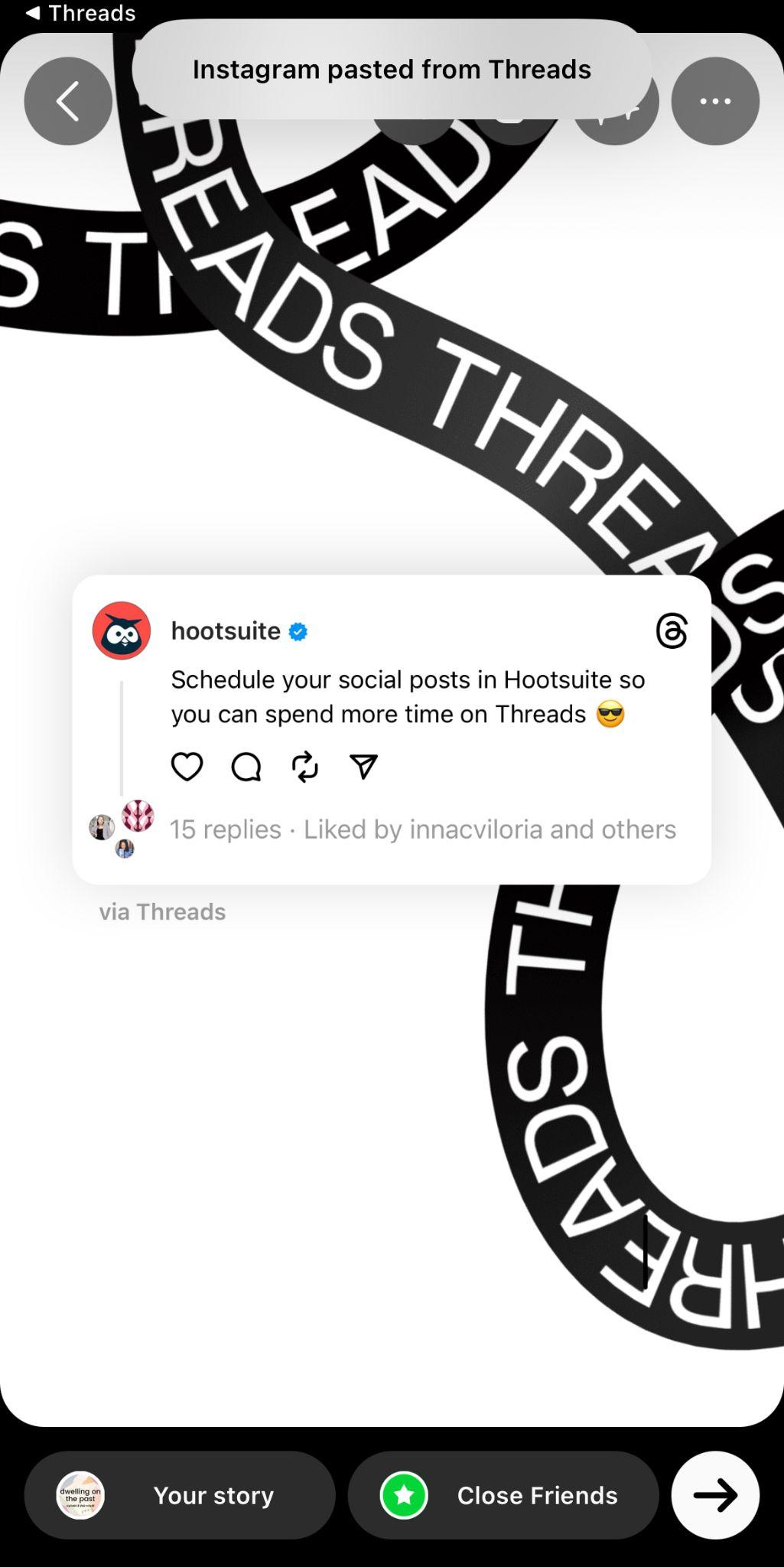 Note: Like an Instagram post you share to your Story, you won't be able to edit the content of the thread you're resharing. You can change the background of your Story or add stickers or gifs, but there's no drawing over or otherwise altering the original post.
5. If you're verified on Instagram, you'll be verified on Threads
Social media managers can breathe a sigh of relief. If you're already verified on Instagram, you'll automatically be verified on Threads. No need to jump through hoops to get that little blue checkmark again!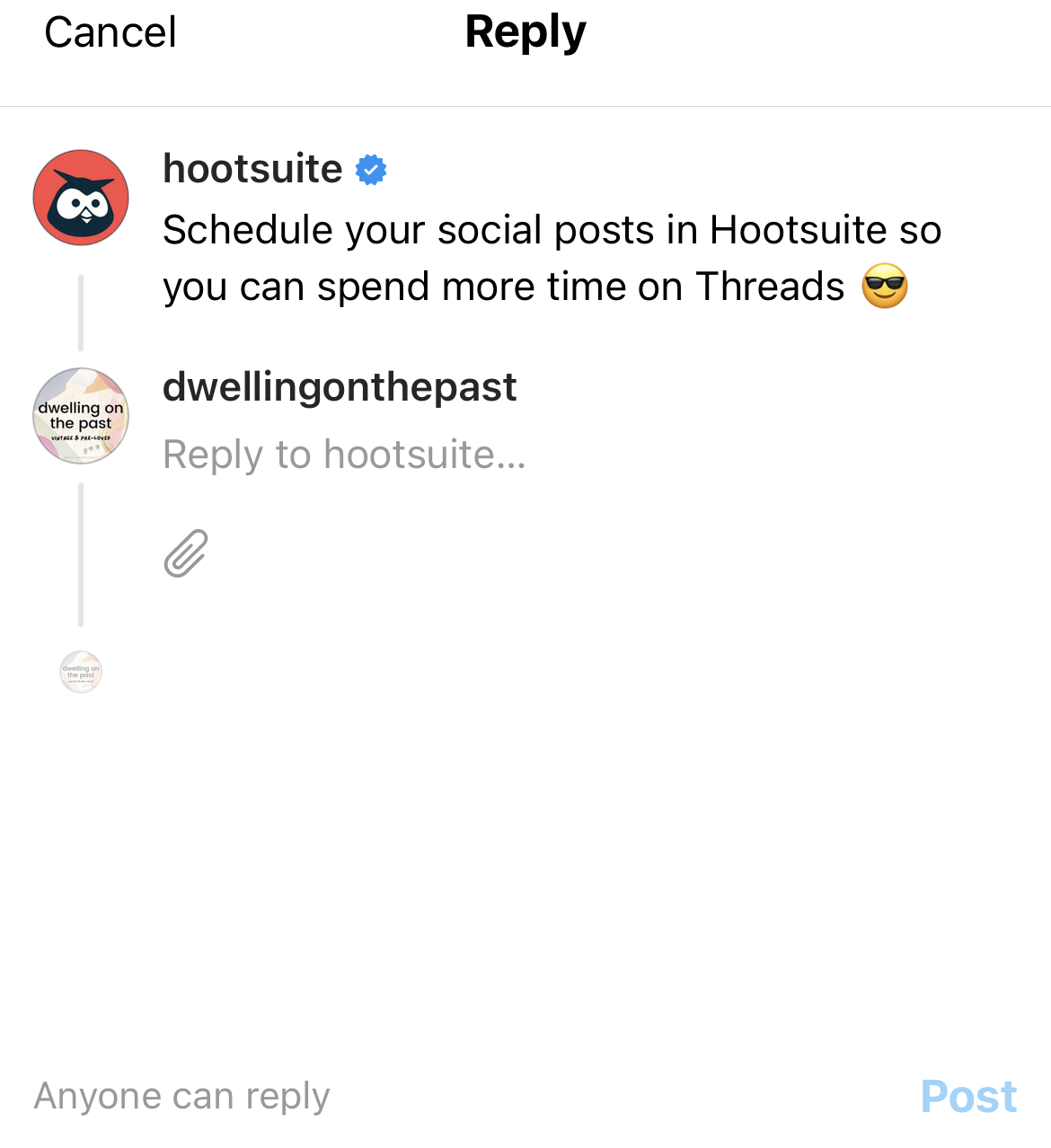 Once a verified Instagram account creates an account on Threads, the blue checkmark will appear automatically next to its username.
6. Dodge fake or copycat accounts
Not sure if you have the right user on Threads? You can use their Instagram profile to confirm someone's identity before interacting with them on Threads.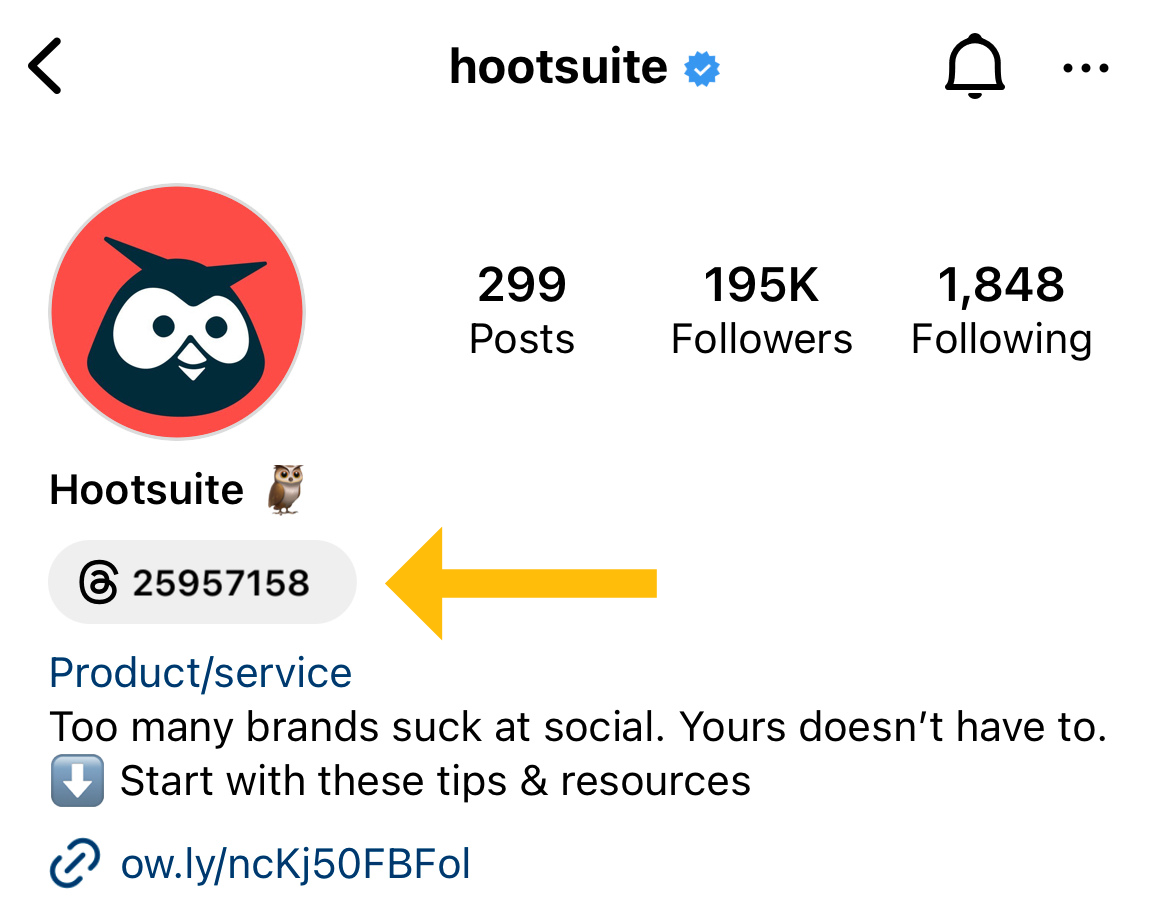 If you want to confirm that someone is who they say they are, head to their Instagram profile and click the Threads link below their username. This will take you directly to their Threads profile, where you can follow the user and rest easy knowing that you've got the right person.
7. Enjoy scrolling without ads
The Threads app currently doesn't have any ads or monetization features, although this is likely to change in the near future. For now, enjoy uninterrupted scrolling!
Threads vs. Twitter: how do they compare?
On the surface, Threads and Twitter have a lot in common. Both apps focus on conversations, with users creating and interacting with short text-based posts.
And while images, videos and links feature heavily on both platforms, the words are the most important part.
What differentiates Threads and Twitter are the features. While Twitter offers perks through its Twitter Blue subscription service, Threads launched with some appealing features that come standard for all users.
Here's a side-by-side look at what each app offers.
| | Threads | Twitter |
| --- | --- | --- |
| Post Length | 500 characters | 280 characters* |
| Links | Yes | Yes |
| Photos | Yes | Yes |
| Videos | 5 minutes | 2m 20s* |
| Verification | Yes | No* |
| Delete Posts | Yes | Yes |
| Edit Posts | No | No* |
| Direct Messaging | No | Yes |
| Trending Stories | No | Yes |
| Hashtags | No | Yes |
| Limits how many posts users can read per day | No | Yes |
*Unless users are subscribed to Twitter Blue
How are users reacting to Threads?
So far, users seem to be enjoying the vibe on Threads. For example, your blocked accounts carry over from Instagram, so you won't have to interact with them again when you join Threads.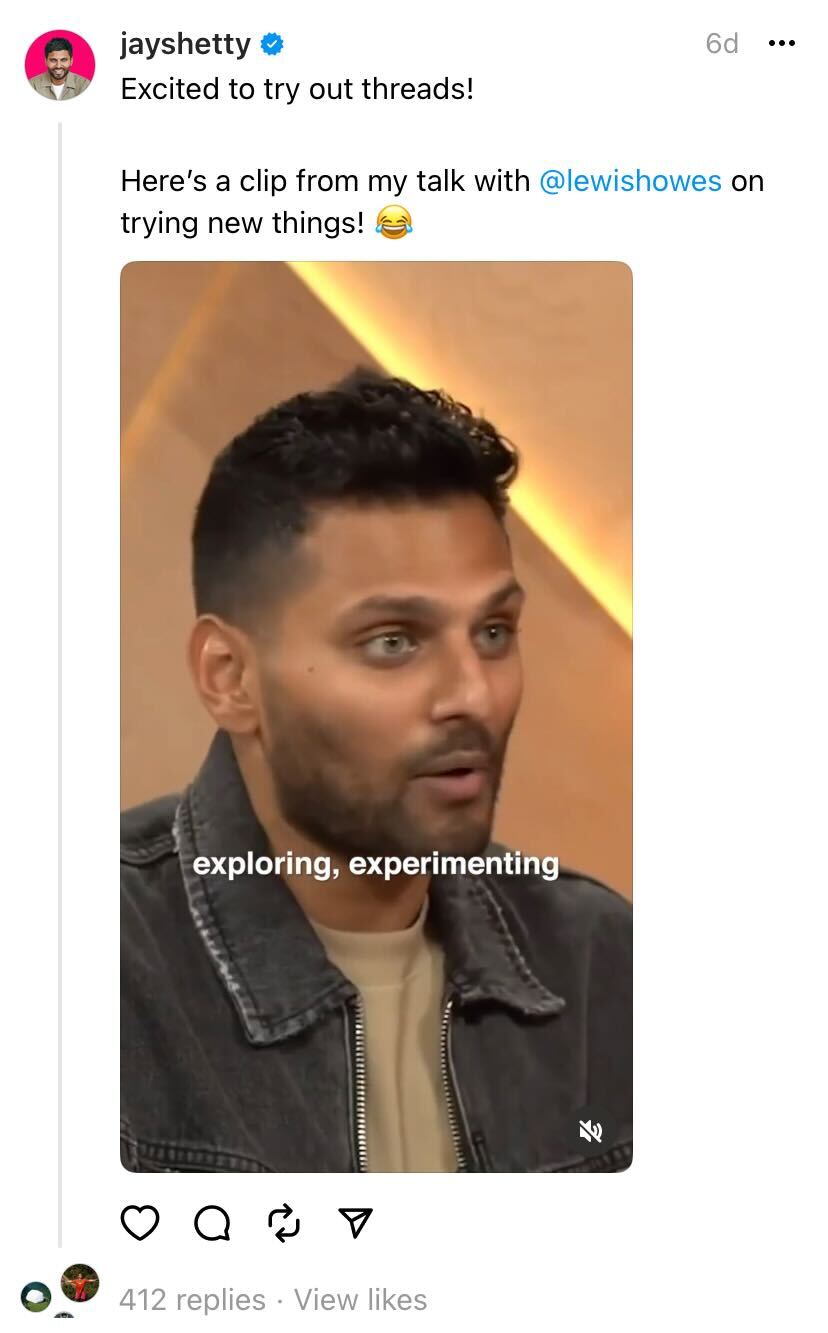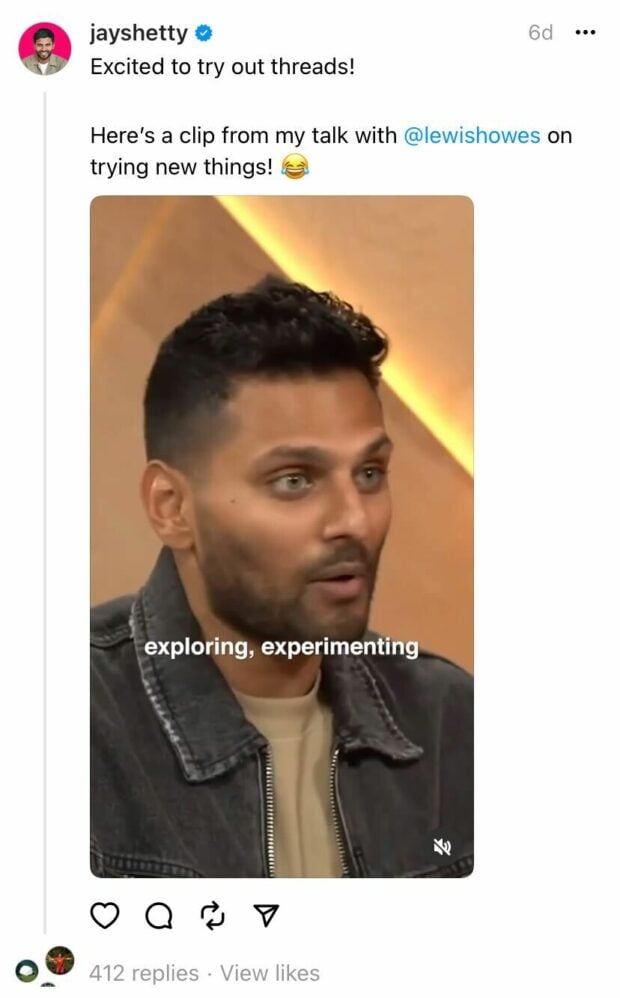 Image via @jayshetty on Threads
The official Threads account has also been very responsive to user requests for additional features.
A recent thread by Instagram head Adam Mosseri mentions that their team is working implementing much-requested features like search, hashtags, a following feed, graph syncing, fediverse support, and direct messaging.
Frequently asked questions about Instagram Threads
What is Instagram's Threads app?
Instagram's Threads is a text-based conversation app. Threads allows a user to follow what's going on in the world and start conversations of their own.
Where is Threads available?
Download Threads on the Apple App Store or Google Play Store. Just search for "Threads, an Instagram app."
Can I join Threads without an Instagram account?
No. You need to have an Instagram account in order to join Threads. You can view a user's threads on the Threads website, but a timeline limit will prompt you to download the Threads app in order to see more.
How can I follow a user on Threads?
You can follow users in one of three ways:
From the search bar: Search for the user and click Follow.
From their profile: Head to their profile and click the Follow button.
From your feed: Click the black plus sign next to their icon.
Why does my Threads timeline include users that I don't follow?
According to Threads, your feed is a mix of people you follow and recommended creators that you might enjoy based on what you already follow and like. As the app evolves, Threads plans to personalize these recommendations.
How do I manage what I see on Threads?
In the top-right corner of your profile, click the double lines to access your settings.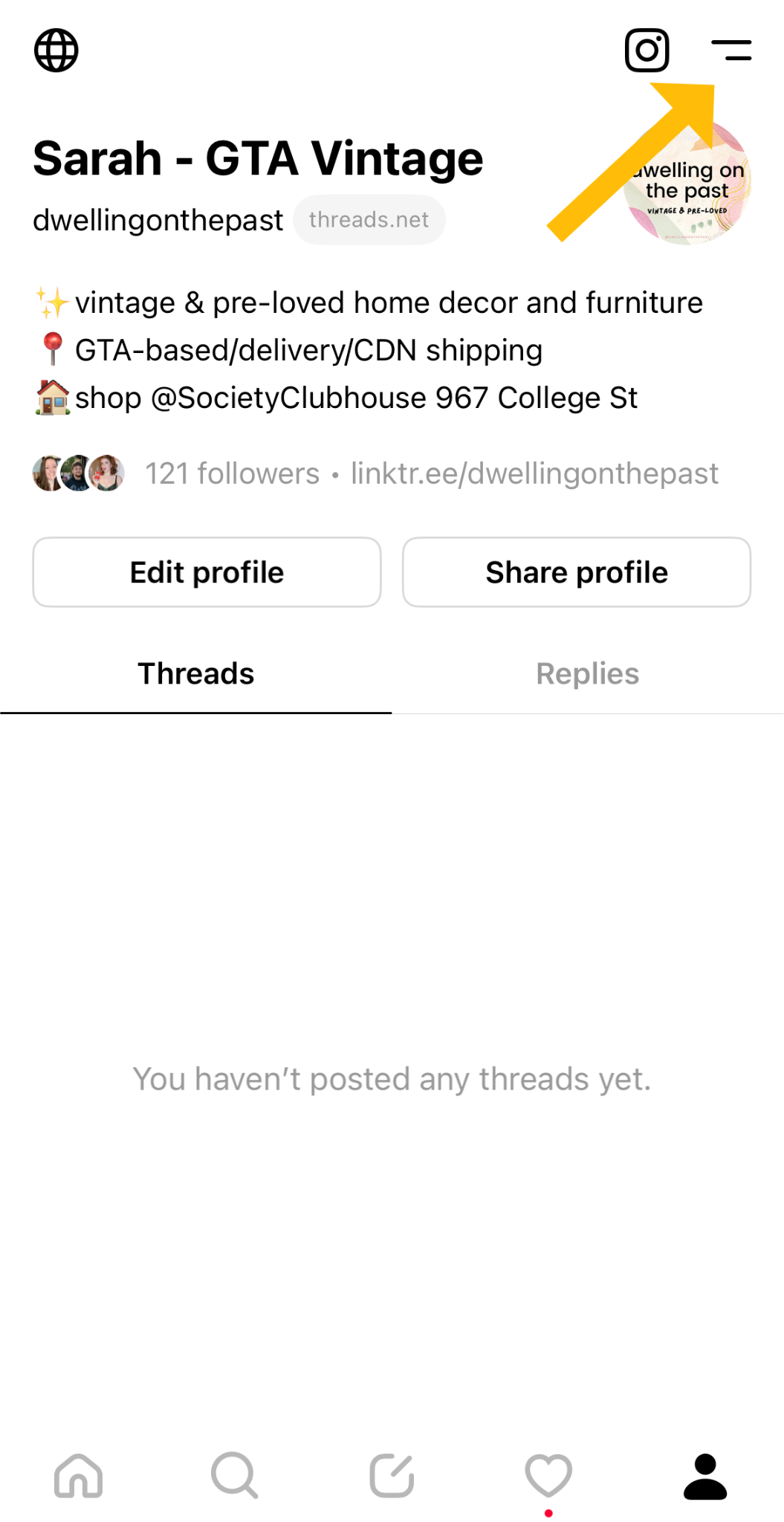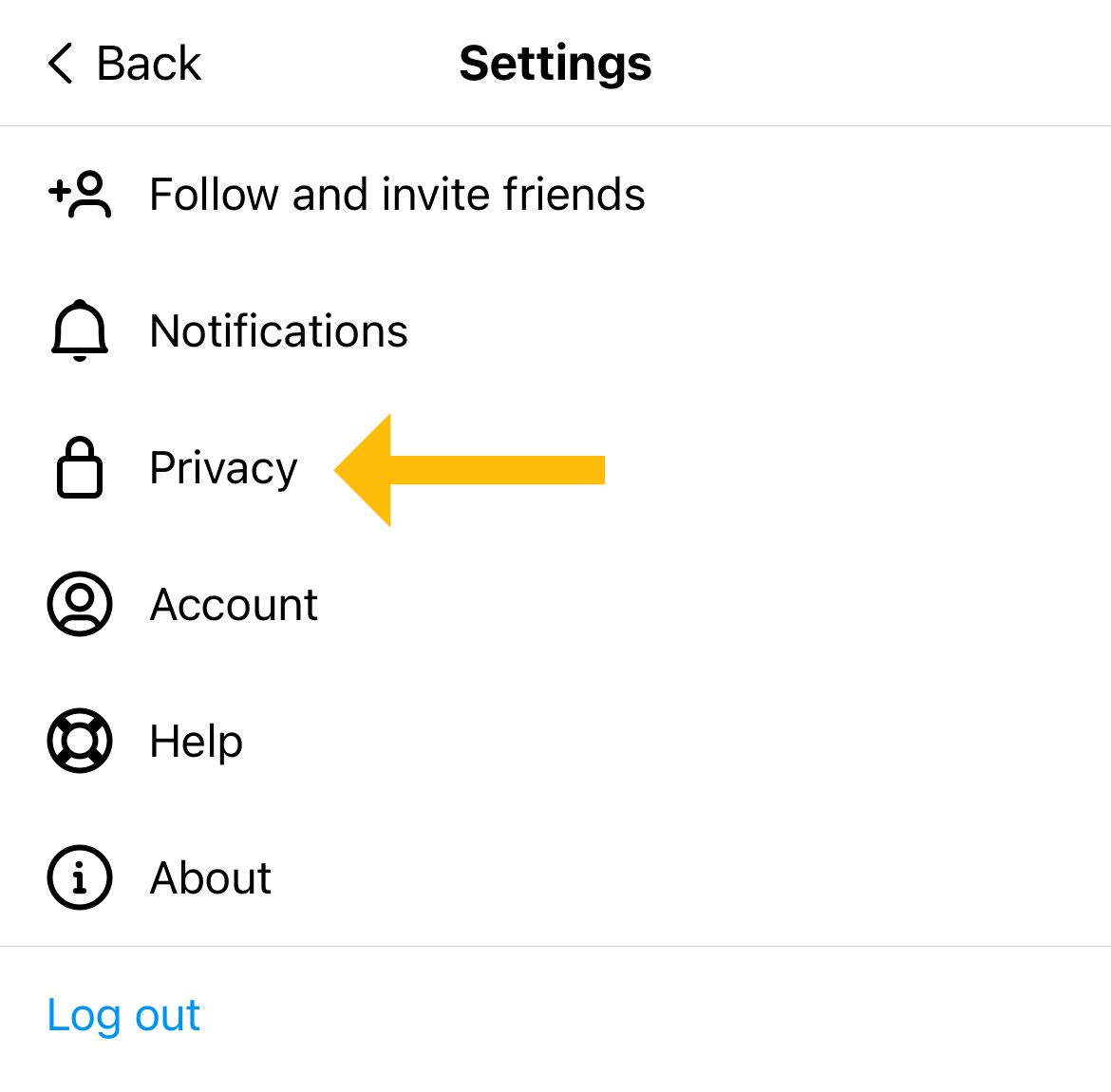 Click Privacy to review and manage your settings, including mentions, muted and blocked accounts, and profile visibility.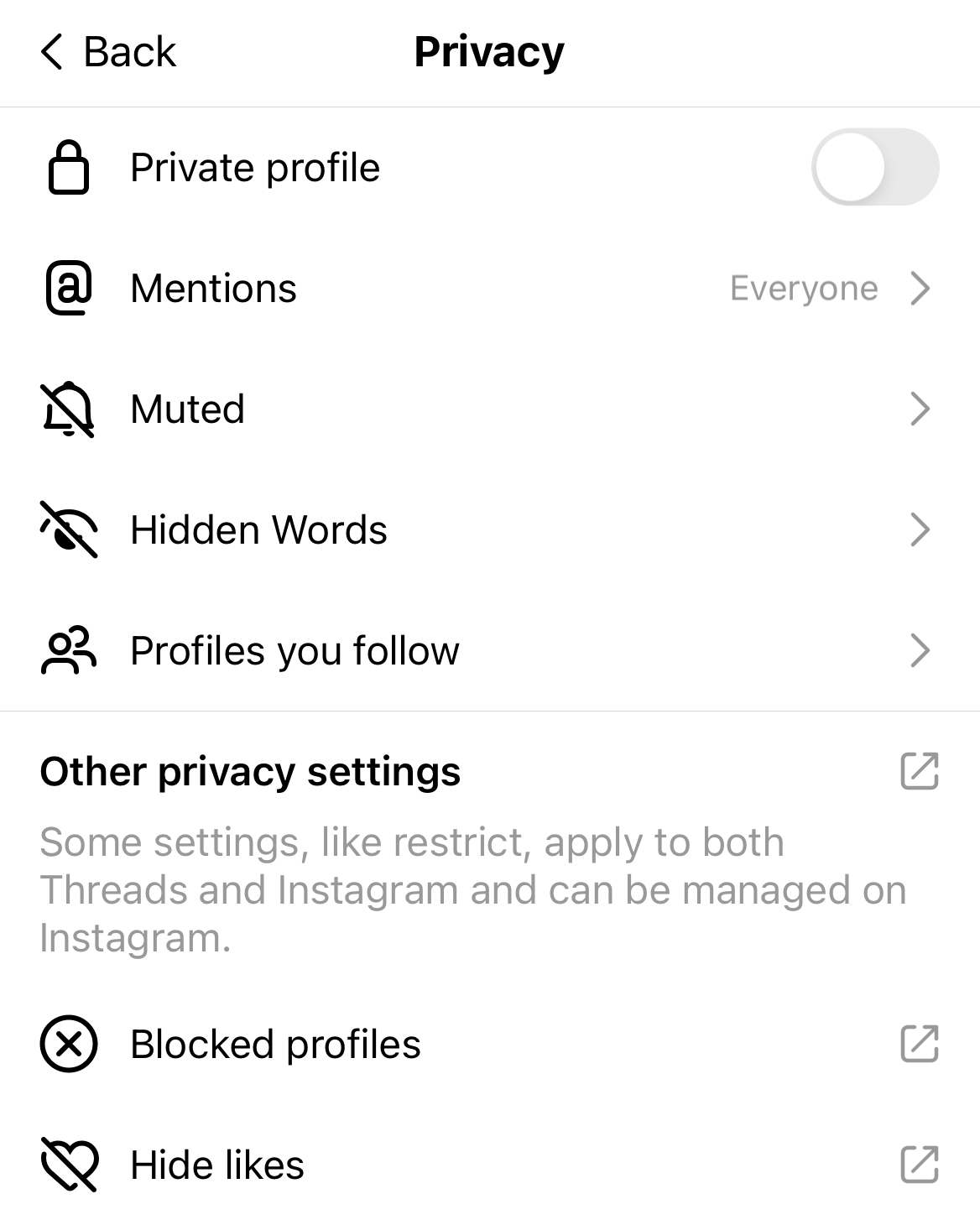 You can also manage your hidden words here. This includes offensive words and phrases as well as custom words. If you never want to hear about ice cream again, this is the place to do it!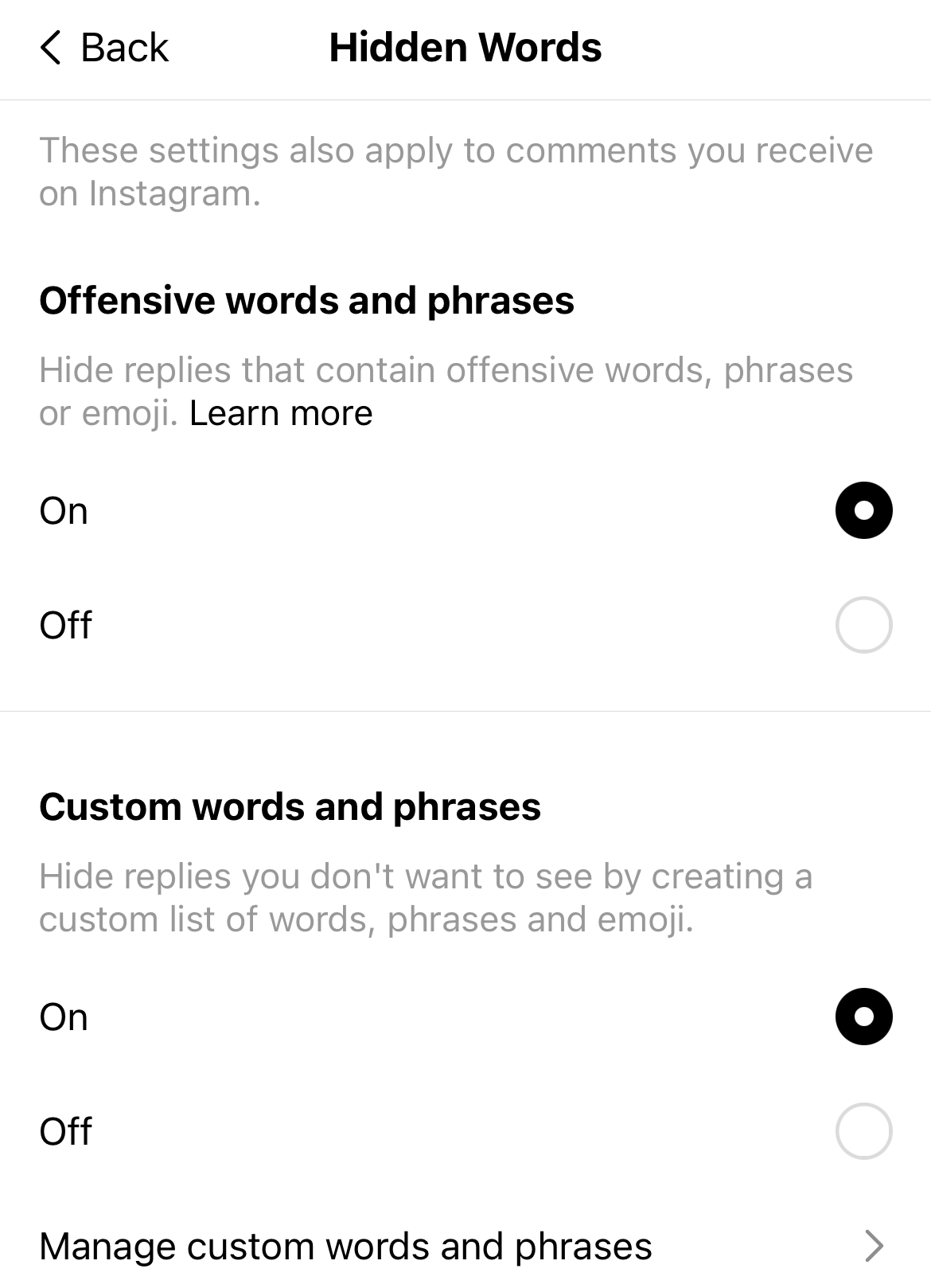 How can I include a photo or video in my Thread?
In the Thread composer window, click the paperclip icon beneath the text.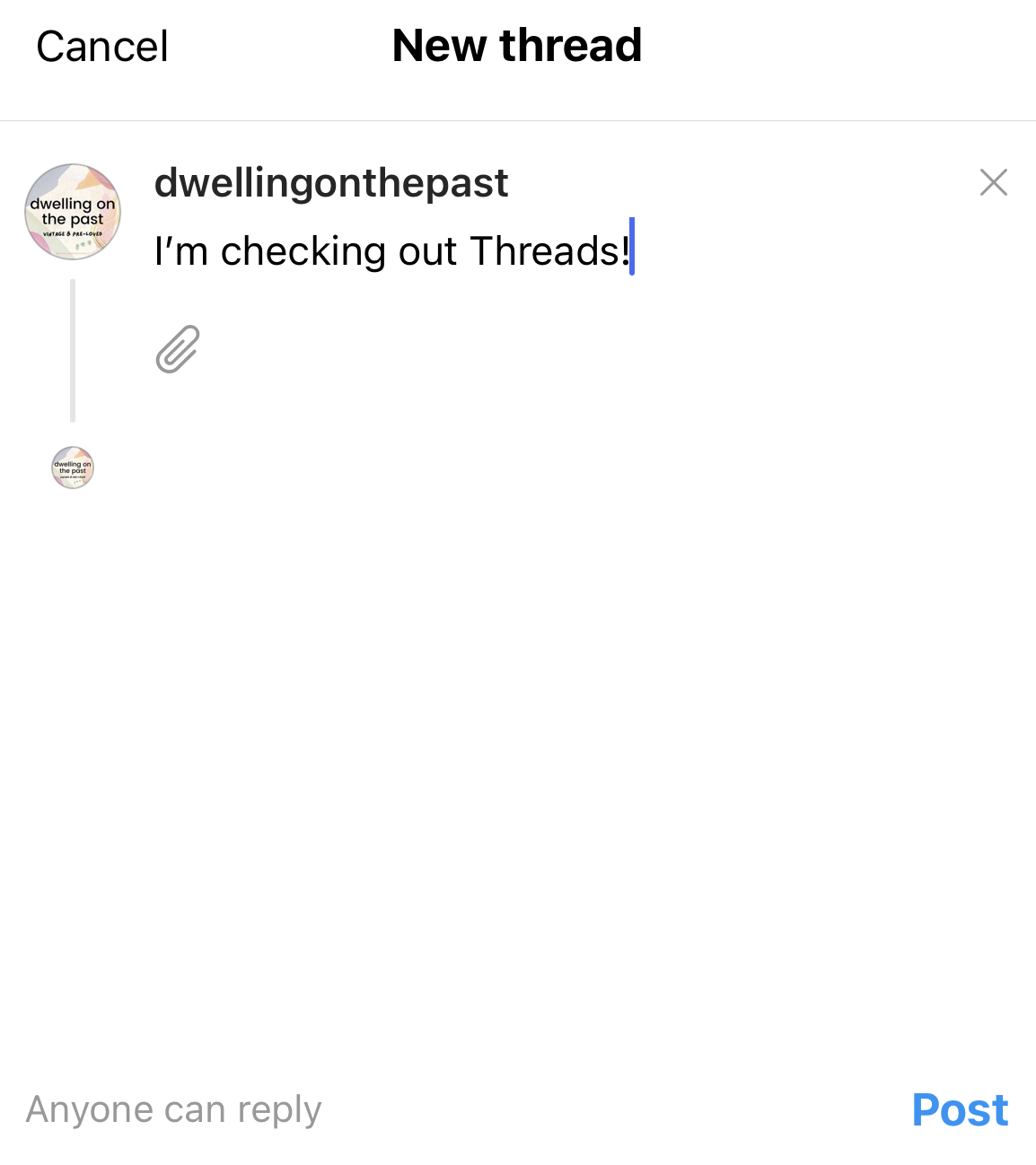 This will open up a window with all the media on your device. You may need to grant the app permission to access your media if you haven't done so yet.
Then, select the image you want and it will appear in your Thread draft. Click the X in the right-hand corner of the photo to remove it, or click Post to publish your Thread.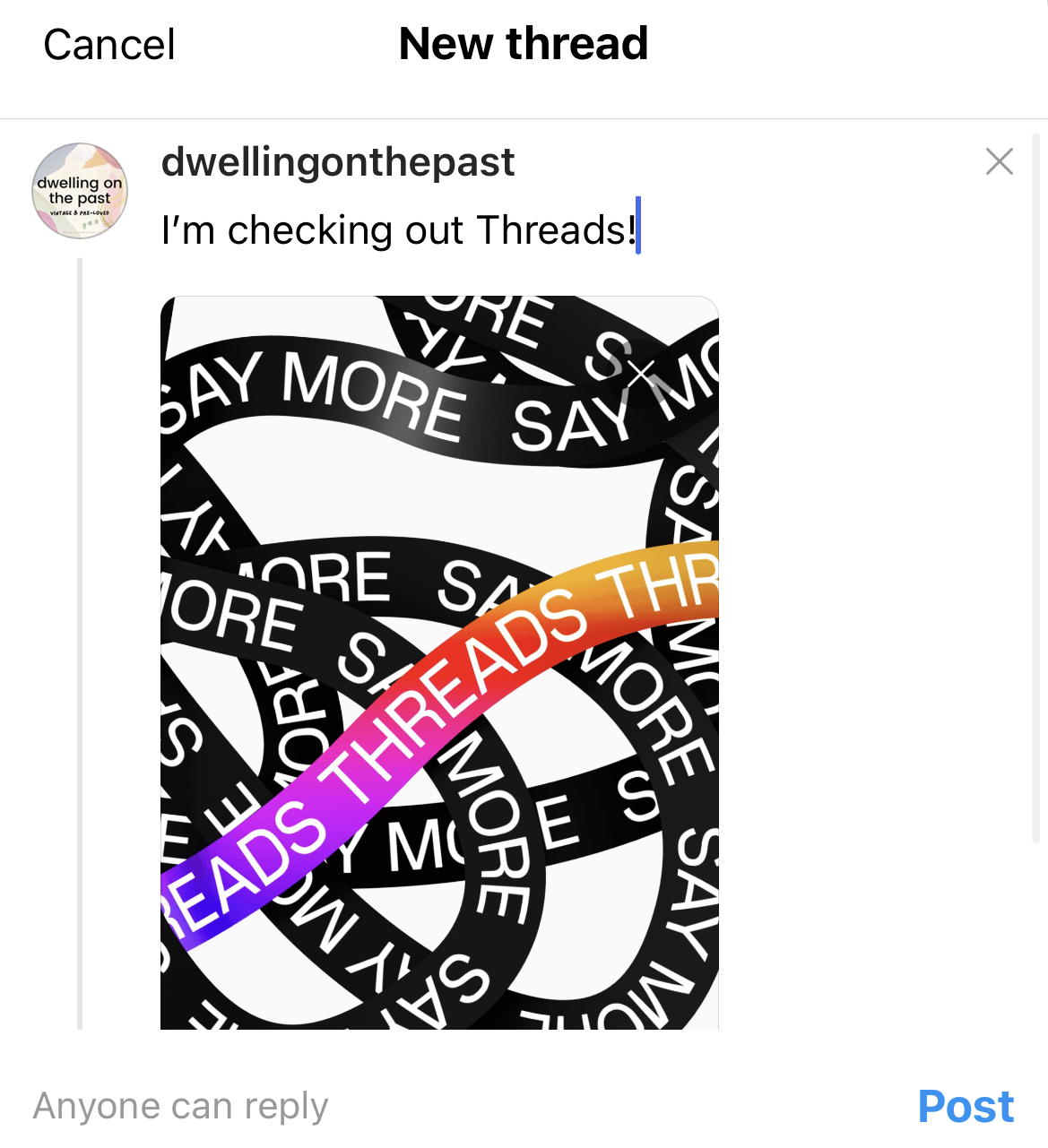 How do I change who can reply to my Thread?
Before clicking Post, click the grey Anyone can reply text in the bottom left-hand corner of your draft. You can choose to allow replies from anyone, profiles you follow, or only profiles you mention in your post.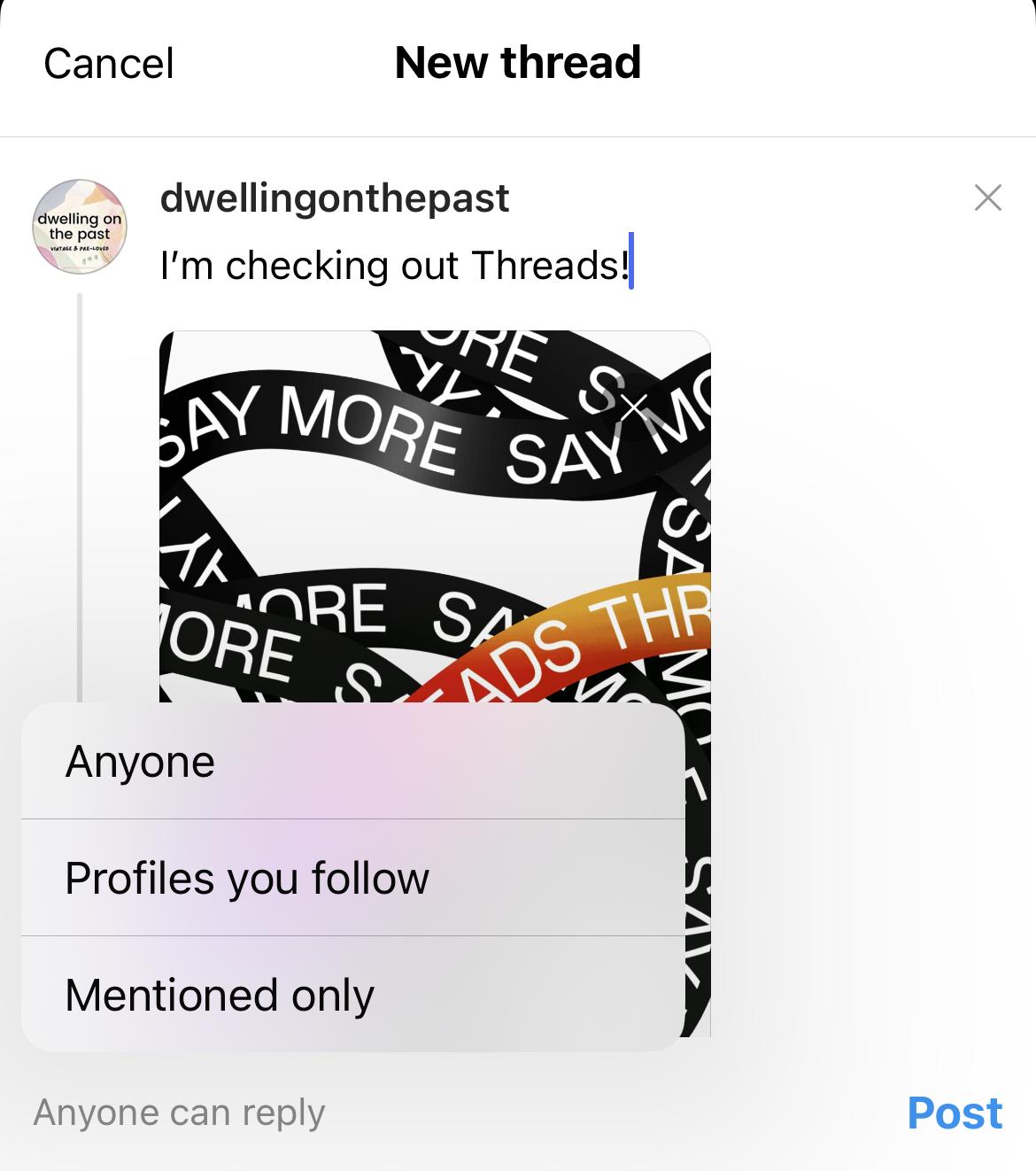 How do I delete a Thread after posting?
To delete a Thread, head over to your profile and select the Thread you want to remove. Click the … in the top right-hand corner.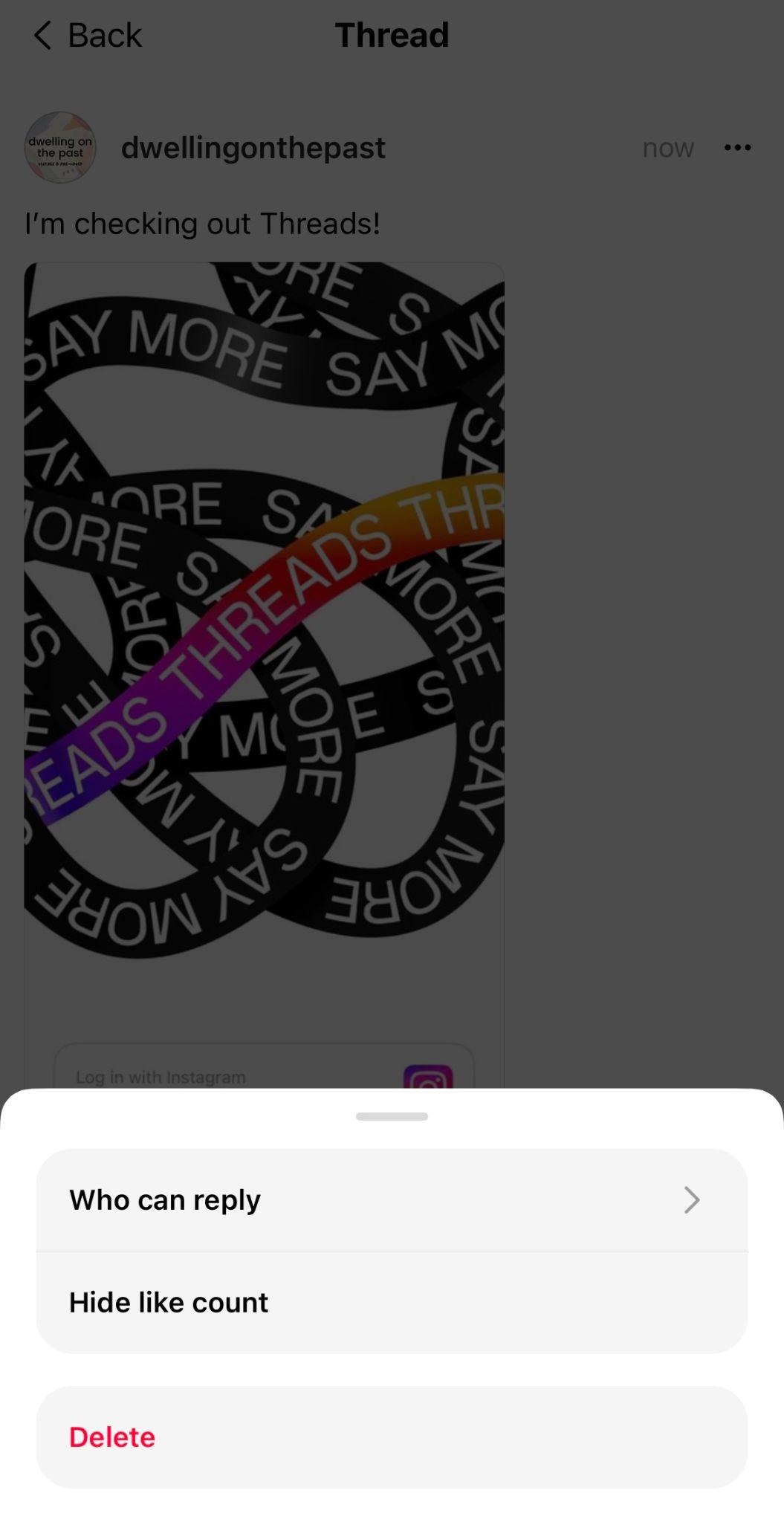 From there, you can edit who can reply to your thread, hide the like count, or delete the thread completely.
How do I hide the Threads badge on my Instagram profile?
To remove the Threads badge from your Instagram profile, just navigate over to your profile, click the badge, then select Hide badge.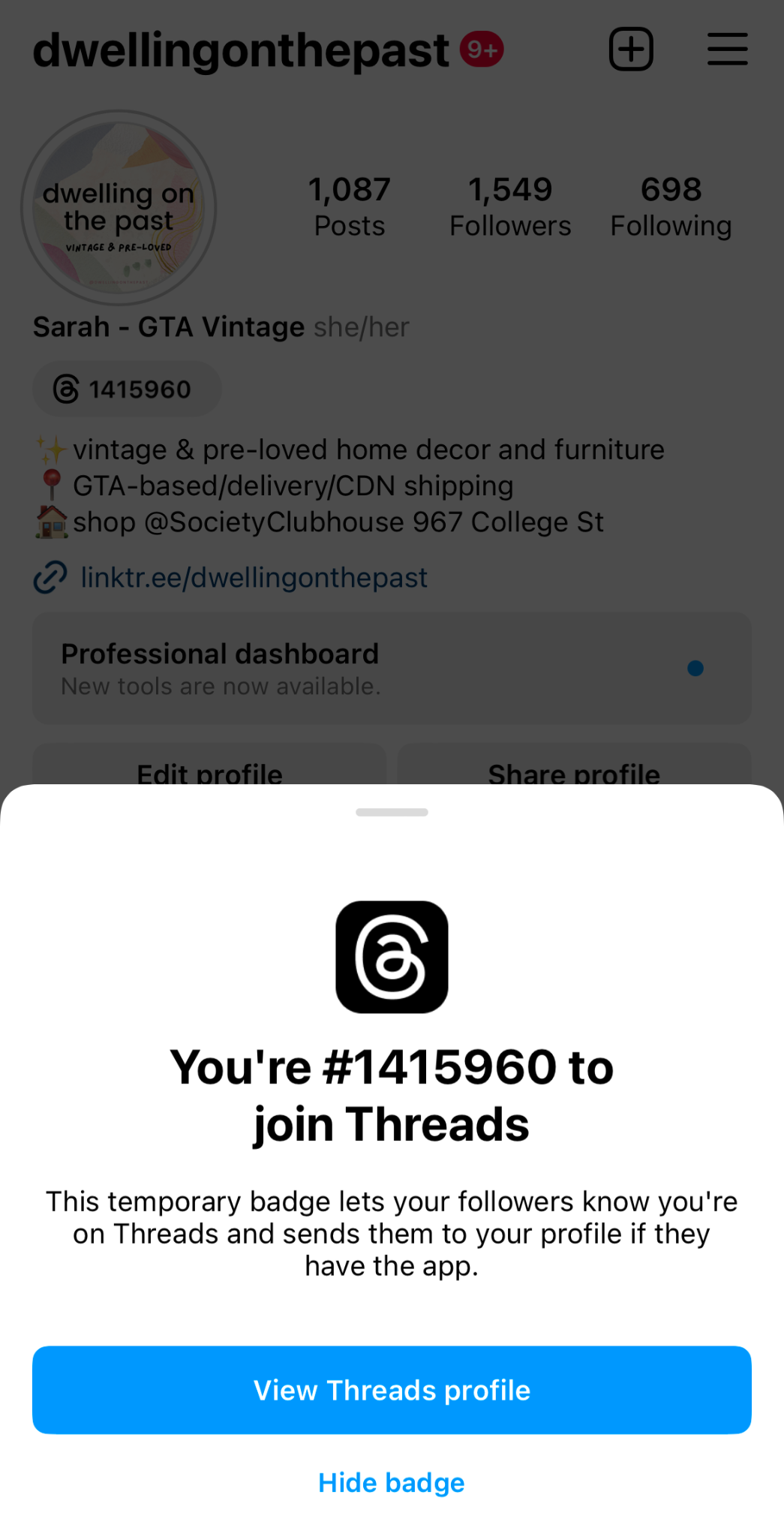 How can I view my Threads timeline chronologically?
As of right now, Threads doesn't include a chronological option, though Instagram's Adam Mosseri recently mentioned that this option would become available in the future.
Can I view my Threads from within the Instagram app?
Instagram Threads is currently a standalone app. However, IGTV launched as a standalone app in 2018 before being folded back into Instagram in 2021, so there's a possibility that Threads will someday be reintegrated into the Instagram interface.
How can I delete my Threads account?
As of right now, a user can't delete their Threads account outright. You can deactivate your account, which will hide your content until you log in and reactivate it. You can also set your profile to private if you're experiencing a temporary issue.
Mosseri recently shared more about deleting vs. deactivating Threads, saying "Threads is powered by Instagram, so right now it's just one account, but we're looking into a way to delete your Threads account separately."
You can delete individual threads anytime.
Save time managing your social media presence with Hootsuite. From a single dashboard you can publish and schedule posts, find relevant conversions, engage the audience, measure results, and more. Try it free today.
Grow on Instagram
Easily create, analyze, and schedule Instagram posts, Stories, and Reels with Hootsuite. Save time and get results.